The President's Poet
Amanda Gorman inspires young African American women across the country through powerful prose
March 1, 2021
As one of the most talked about speakers at the Presidential Inauguration, Amanda Gorman has inspired many by showing the world that anyone can have a voice. At the age of 22, she has become the youngest person ever speak at a United States inauguration. Gorman represents how strong people can be through her achievements, such as graduating from Harvard, being named the first ever National Youth Poet Laureate of the United States, and creating One Pen One Page, which allows underprivileged youth access to creative writing sources and programs.  
In an interview with Michelle Obama, Gorman shows her excitement for being able to influence the creative community around her. 
"What's been exciting for me is I get to absorb and to live in that creation I see from other African American artists that I look up to. But then I also get to create art and participate in that historical record," Gorman said. 
The Youth Poet Laureate was a program created in 2008 to promote social justice via writing. In 2017, Amanda Gorman became the first official Youth Laureate of the United States followed by Patricia Frazier, Kara Jackson and Meera Dasgupta. The official 2021 Youth Poet Laureate has yet to be chosen, but the finalists are known.  
With her clear speech and passion at the Presidential Inauguration on January 20th, Gorman wowed the country. Gorman isn't afraid to fight for what she believes in, whether that be racial or gender equality. She gladly shows her appreciation for black artists of the past and shares her excitement for being able to be a voice for her community. 
Samiah Lewis (10) is passionate about the effect Gorman is having on the world around her.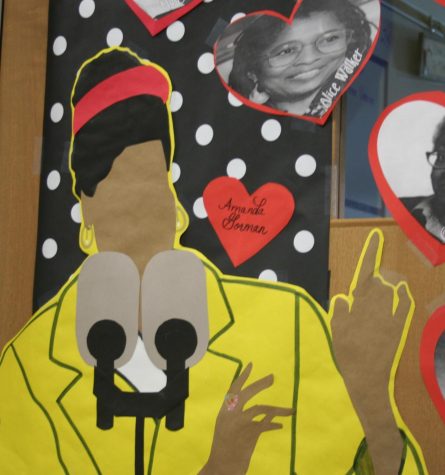 "It feels affirming to know that my black sisters are out there putting in work and fighting for change. Her words of wisdom continue to anchor so many black women through hardship, uncertainty, and loss. Hearing other black women's stories are empowering, affirming, and are guides for self-care and survival," Lewis said.  
English teacher Shealy Dominick encourages those who are interested to follow Gorman's path and try writing what they notice about the world around them.
"If you are inspired by Amanda Gorman's story, her work, her person, or her social media presence, then read everything you can by her and people like her…Write about how you feel in relation to what you read, the world, school, your friends, your own mind. Keep words coming in your eyes and back out through your hand. You will be amazed at how the words will build that confidence that Gorman models," Dominick said.