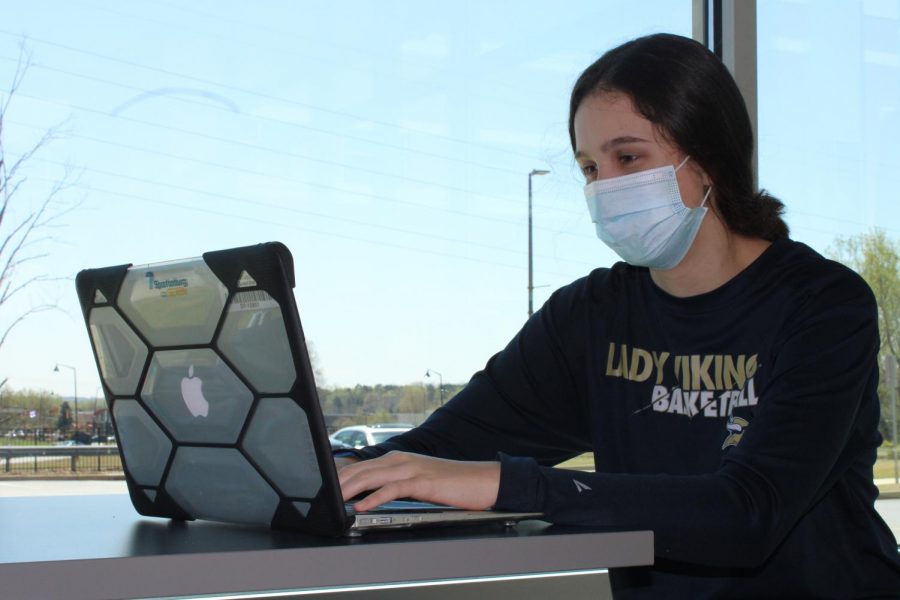 Photo by L. Chandler
Julia Graham (10) hosts a fundraiser in tandem with the Spartanburg Breakfast Optimists Club in order to raise money for children afflicted with cancer. The Spartanburg Breakfast Optimists Club is a nonprofit organization that has executed youth and community projects within Spartanburg for over 60 years. The money raised via her fundraiser is donated to the Children's Cancer Partners of the Carolinas, an organization that provides essential support to the families of children diagnosed with cancer. Graham has held her fundraiser for four years now and she plans to continue her efforts online, due to the current pandemic. 
Before the current situation with COVID-19, Graham hosted a sit-down dinner at the Spartanburg Breakfast Optimists Club. Guests would donate to the Children's Cancer Partners of the Carolinas and then enjoy a spaghetti dinner while listening to a guest speaker from the Children's Cancer Partners of the Carolinas. She first realized the idea of a spaghetti dinner when she was only in fourth grade. In 2015, Graham hosted her first fundraiser, and proceeded to hold three more fundraisers in 2017, 2018 and 2019. In total, Graham has raised around $2400 over these four fundraisers. Particularly, in 2019, she raised $700, which went to Daisy, a fellow piano student who had Leukemia. 
Tally Vaneman (10), an attendee of two of the four fundraisers, was happy to support her friend and participate in the spaghetti dinners. 
"The fundraiser ran really well both times I was there, and everyone involved had a great time. It meant a lot to me to be able to help both my friend Julia and kids with cancer," Vaneman said. 
Luke Duncan (9), another attendee of one of the previous four fundraisers, thought the program was a good idea and enjoyed the experience. 
"It ran smoothly and was easy to carry through with. I found the cause very meaningful and appealing, especially as the event was relatively simple to coordinate and many were willing to donate," Duncan said. 
Unfortunately, due to the current pandemic, Graham's in-person dinner fundraiser was cancelled. However, she refuses to let that stop her and is currently working on a hat-day in late April in conjunction with Student Council, which will still raise money for children with cancer and maintain COVID-19 protocol to keep participants safe.
When describing her idea behind these spaghetti dinners, Graham's kindness and empathy for others takes center stage.  
 "I started holding the spaghetti dinner fundraisers when I realized how grateful I should be for all I have. I realized that there are worthy children just like me fighting for their lives at such a young age which made me want to find a way to give back to the children fighting cancer in our community. The Spartanburg Breakfast Optimist Club and Children's Cancer Partners of the Carolinas have allowed me to hold a fundraiser for our community and help children fight on their journey to becoming cancer free," Graham said.