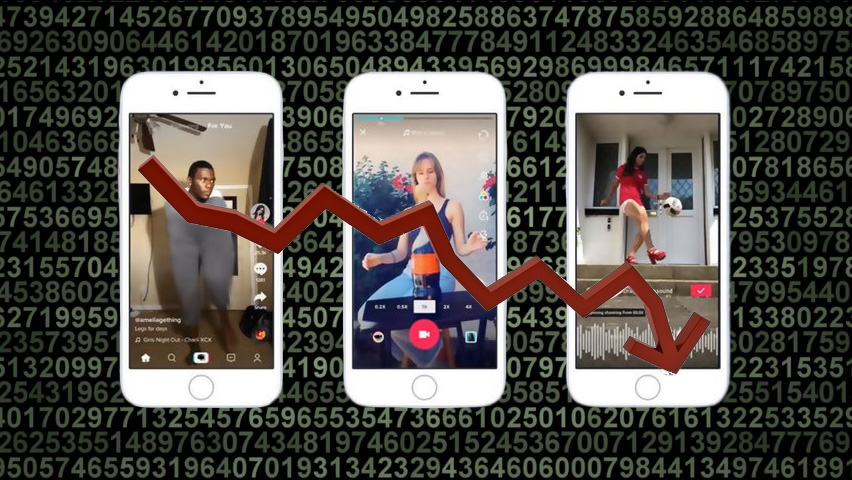 Photo illustration by V. Franke
With TikTok's rapid growth and booming success, the app has become more than just entertainment. It provides a source of income for users with a high following and a way to spread information quickly to a wide audience. There is a rise in the discussion of how the app distributes videos unfairly, and according to refinery29.com, there are almost 300 million videos under the hashtag "#shadow-banned" on TikTok. Shadow-banning is when a user will suddenly experience an extreme drop in user engagement until a certain video is removed or edited. The numbers of views, likes, and comments on a video no longer reflect the size of the user's following. It is seen as a form of censorship on important topics or even forms of simple entertainment and can directly threaten users who have joined the creator fund. 
Dennis Roberts teaches technology-centered classes and coaches the Cyber-Viking team. He describes the matter of censoring on apps like TikTok as a two-sided coin. 
"On one hand, it prevents content that those who should not view it (children). But on the other hand, it can be over-used, and free speech is not allowed," Roberts said. 
According to the app's official newsroom, the Tik-Tok's creator fund was announced in July as a program to pay eligible users (over 18 with a minimum following of 10,000) for their videos by Vanessa Pappas, general manager of TikTok U.S. 
"To further support our creators, we're launching the TikTok Creator Fund to encourage those who dream of using their voices and creativity to spark inspirational careers," Pappas said.
While the launch of the creator fund was exciting and users were promised that TikTok would continue to grow the fund to pay creators, the results were disappointing. The fund's system is vague, and users are unsure of how their payments are calculated and whether or not the payments are dependent on views, engagement, or outreach. The issue of shadow–banning became more prevalent as users claimed that once they entered the fund, they were making much less than promised and their new videos were no longer being presented to their followers. Many of these "shadow-banned" users left the fund as they made extremely little and their videos lost follower engagement. While all accusations are denied by TikTok, a popular theory is that once users enter the creator fund, TikTok strategically hides their content. This causes the content to have fewer views and less engagement, and consequently, the app does not have to pay its creators as much.