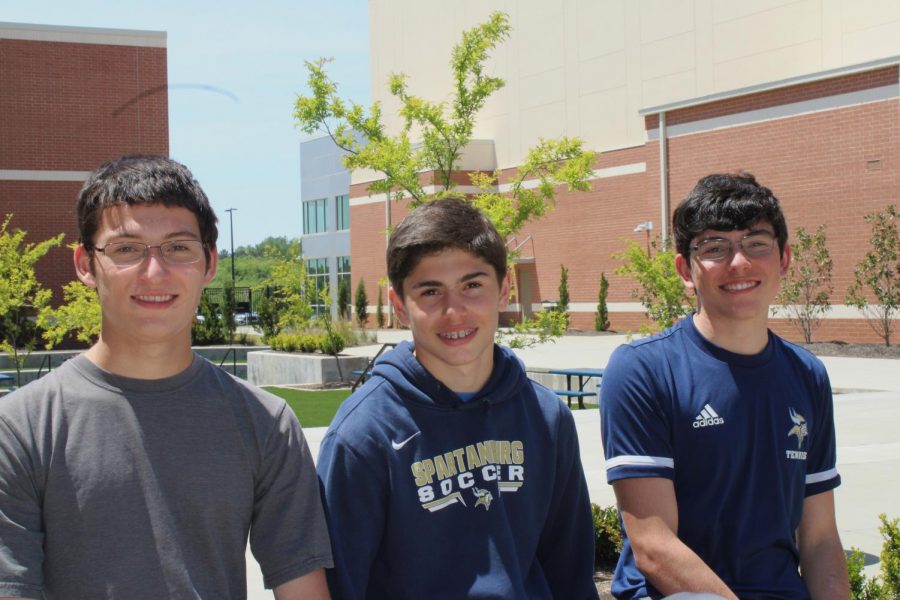 Photo by M. Janeski
In the Falcon family, sports aren't just hobbies to do on the side, but they are also major parts of their lives. Brothers Ilan (12), Jerome (10), and Ruben (9) Falcon all have sports that they compete in and excel at. The competition between the Falcons because of sport participation has fostered a competitive nature that bonds these brothers together.
Ilan, the oldest in the family, choses to run track. In the past, he has done soccer up until the 8th Grade. Ilan likes how there is a good community of runners that surrounds him during track season.
"The thing I like most about track is the community," Ilan said. "It allows me to stay in shape while exercising with my friends, which makes it much more enjoyable."
While Ilan runs track, Jerome can be seen running 5K's for the cross-country team. With a personal best time of 19:47, he is arguably very successful at running.
However, the sport that has brought Jerome the most success has been tennis. Playing on the Varsity team, Jerome has already won two state rings during his short time playing.
"I like that tennis is a social and physical sport," Jerome said.
Similar to his older brothers, Ruben played soccer at a very young age. But unlike his brothers, he is the lone Falcon to keep up this passion. As a 9th-grader, Ruben made the Varsity soccer team. Ruben likes the flow of the game and decided to keep up with this sport instead of following his brothers in other sports because of the time and effort he had already put into soccer.
"My parents signed me up for AYSO soccer at a very young age, so by the time I got older I was already too invested to just quit and start over on another sport," Ruben said. "I also enjoy the flow of the game and the skills and lessons it teaches you on and off the pitch."
Jerome believes that because they all share a common love of sports, it bonds he and his brothers together.
"We all do sports, making us get along better since we have something in common," Jerome said.
The fact that all the Falcon brothers play sports creates a competitive nature that drives the brothers to be a greater athlete, all while bringing them together at the same time. Ruben strongly agrees with this point of view.
"They [the sports] help us to form a good relationship while having a competitive nature that drives us to be better than the other," Ruben said.
From tennis to track or soccer to cross country, the Falcon brothers can be seen in most sports. With these sports brings a little bit of competition, and a whole lot of bonding.