Virgil Abloh: The King of Streetwear
The recently deceased fashion pioneer's influence on pop culture
From being the artistic director of Louis Vuitton's menswear collection to founding the successful fashion label Off-White, Virgil Abloh along with many others have helped pave the way for fashion to develop into what it is today. Abloh was known for mixing fashion and music together through his experience as a DJ, an album cover designer and a clothing designer.  
He began his fashion career in the late 2000's interning with the successful Kanye West at the luxury brand Fendi. Abloh and West continued their work together throughout both of their careers with fashion collaborations between Off-White and Yeezy, as well as musical work together on projects such as My Beautiful Dark Twisted Fantasy and Yeezus.  
The designer founded his first company called Pyrex Vision in 2012, which in the following year evolved into Off-White. Selling all sorts of items including shoes, jewelry, and even homeware such as pillows and blankets, the label has become a powerhouse in the luxury shopping world. The brand collaborated with copious amounts of brands such as Nike, Timberlands and Ikea.  
Darrell Brannon (11) thinks that Abloh helped many find who they are clothing-wise.  
"Virgil was more than an icon in the fashion industry, he was a friend of many in the fashion game," Brannon said. "No one goes without praising Virgil when speaking upon the fashion game."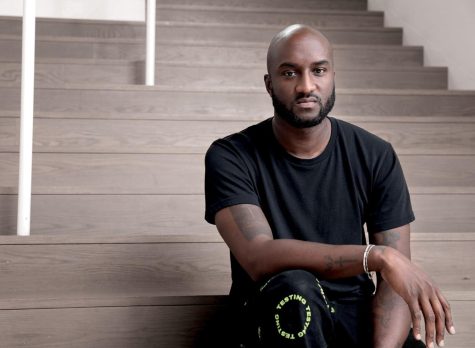 In 2018, Abloh was given the prestigious position of the artistic director of Louis Vuitton's menswear collection. He launched multiple collections for the company, artistically crafting the debut's runways, invitations, and even the overall atmosphere of the room.  
Abloh worked on more than just fashion items through his album cover design, music video production, and experience as a DJ for some of the biggest names in the music industry including West, Lil Uzi Vert and Jay-Z. In 2011, he was nominated for a Grammy for Best Album Packaging for his work on the West and Jay-Z collaboration album Watch the Throne. In 2017, he was asked to perform at Travis Scott's Birds Eye View tour as an opening DJ. 
In an interview with Fader, Abloh spoke about the process he went through working with Uzi creating the album cover for his debut album Luv Is Rage 2.  
"These covers are a prequel to in-depth creative back-and-forth using all of our different assets. Uzi believes in me, and I believe in him and it's us doing this crash of things that are in our own head," Abloh said.  
Abloh privately fought a rare cancer called cardiac angiosarcoma for around two years before sadly passing away in November of 2021 at the age of 41. His eighth and final collection for Louis Vuitton released posthumously in January of 2022.  
Rookhie Sullivan finds him to be a very influential force for fashion culture.  
"He changed the game for fashion when he became a leader of the menswear for Louis Vuitton. He achieved so much at a young age, and he was a barrier breaker when it came to fashion," Sullivan said.