Turkey Treats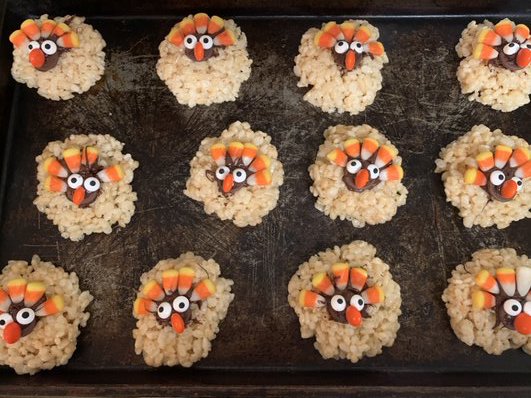 When I think about Thanksgiving, one of the first things that comes to mind is turkey. Turkey Treats are made with a Rice Krispie Treat base, followed by a chocolate wafer, candy eyes and candy corn. Turkey Treats are very fun and easy to make. When making Turkey Treats, you get to show your creativity, as well as celebrate Thanksgiving. Next time you are thinking about how to impress your family during Thanksgiving, you will have to try out Turkey Treats!
Ingredients:
For the Rice Krispie Treats:
1/4 cup unsalted butter
10oz bag marshmallows
5 cup Rice Krispies cereal
For the turkeys:
1/4 cup semi-sweet chocolate morsels, melted
12 chocolate wafers (or Hershey Kisses)
candy corn
candy eyes
orange M&Ms
Instructions:
In a large saucepan, melt butter over medium heat. Once melted, add marshmallows and stir continuously until melted. Remove from heat and quickly fold in the cereal, until completely coated.
Press lightly into a buttered 13×9 baking sheet. Allow to set, about 30 minutes.
Using a 2 1/2 inch round cookie cutter (or whatever desired size), cut circles into the Rice Krispies. Eat discards immediately.
Using the melted semi-sweet chocolate, attach about 5 candy corn for feathers, one wafer for the face, two eyes and half of an orange M&M for the beak. Feel free to add a red candy (or pipe on red candy melts) for the waddle.
ENJOY!
(Recipe from https://www.shugarysweets.com.)