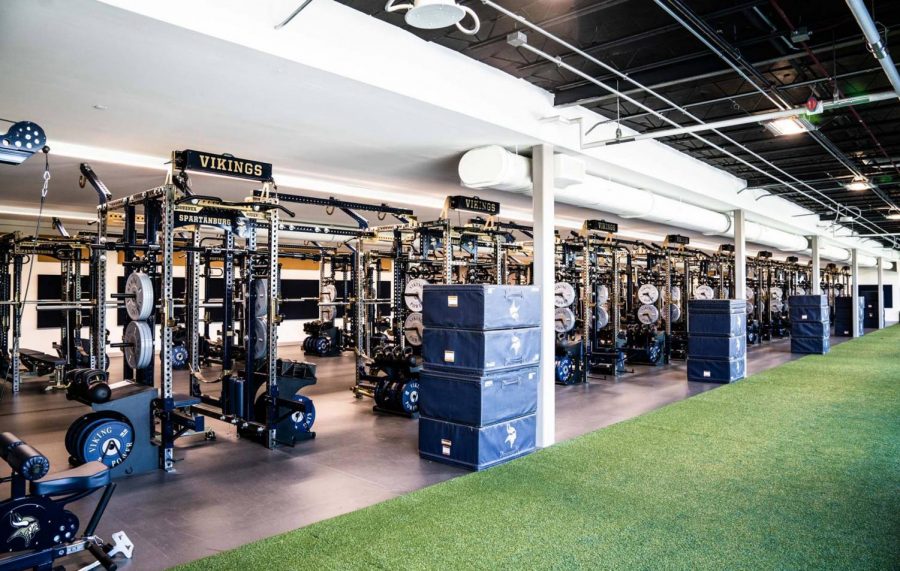 Top Notch Weight-Room
Spartanburg High School's brand-new, state-of-the-art weight room has been customized to fit the needs of all Viking athletes and coaches. It includes 40 Sorinex fully functional training stations, 10 Vertimax trainers for Power Development, 10 glute-ham stations, 5 stall bars for stretching, 40 yards of turf for speed training and mobility training, 20 PowerBlock dumbbells and 30 Tsunami training bars.  
Andrew Caldwell, head strength coach, explained that the room was designed with the purpose of safety and performance for high school athletes. The custom lifting stations were designed for safe, efficient, and training-dense workouts. The unique rack design allows for access from not only the front and back of the rack, but also the sides, providing room for a maximum number of athletes between stations and group work. They can also be utilized with the jammer arms to provide resistance from a multitude of angles and leverage points. The overall design of the rack breaks up the station into two fundamental areas where one can coach the core lifts without interfering with any auxiliary lifts that might be going on at the same time. The new weight room brings new traditions and a new sense of brotherhood. 
Omar Alchab (10), a member of the varsity wrestling team, feels a sense of community and determination to work harder in the weight room.
"I love the new weight room. The combination of the amazing coaches and state of the art equipment is going to significantly improve our sports' teams," Alchab said. 
Timmy Sullivan (12) is very pleased with the new facility and thinks it's very beneficial for student-athletes. He enjoys the class and says he has learned a lot about training and taking care of the body since starting. 
"It's very nice and we're lucky to have one of the best training facilities for a high school in the state," Sullivan said. 
"Spartanburg High School has a long history of excellence in academics, arts and athletics.  So, when the city of Spartanburg gave us the opportunity to build a new facility for training the next generation of Viking student athletes, we wanted to give them the best and safest place to do it," Caldwell said.