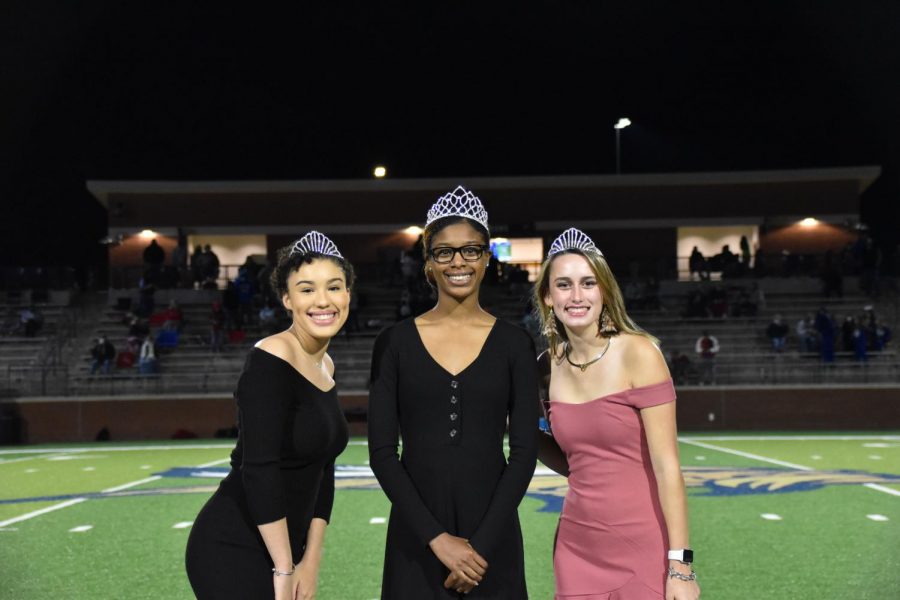 Alternative Homecoming Activities
November 10, 2020
Spartanburg High School's 2020 homecoming activities may have looked different from previous years, but everyone still had fun playing socially-distanced games, eating from local food trucks and voting for the senior and staff homecoming queens and kings.  
Student Council worked hard to provide a safe and fun homecoming experience. During preparation, members put in extra work especially when the original plans for the event didn't work out. After revamping their ideas, Council came up with the theme of "Board Games."  Even though the homecoming parade did not take place this year due to COVID-19 restrictions, everyone had the opportunity to participate in the "fun lunch" rotation. During 5th period, all classes were assigned wristbands and rotated through three different stations. At these stations, Vikings took part in field-day-type activities such as pie eating, a dunking booth and minute-to-win-it relay games.  
At lunch, all classes had the option to purchase food from a variety of trucks including Chick-Fil-A, Willy Taco or Sugar-n-Spice. Concessions and bake sale treats were sold in addition to funnel cakes and shaved ice. Money made from the baked goods sale was donated to charity. Students and faculty participated in traditional spirit week dress up days, which were 'Mercia Monday, Tacky Tuesday, Class Day for Wednesday and Thursday, and Extreme Blue and Gold Friday. Members of the student council also decorated administrators' doors to mimic the board game theme.   
During the fun lunch rotations, people watched the nominees for both the senior and faculty election to say a few words before the voting ended. The Corporation performed a jazz number in the arena featuring Hailey Millwood (12) and Tiras Stewart (12) as soloists.  
This year, a new homecoming election was held for teachers. Everyone nominated their favorite teacher to run in the election. The nominees created bins for their classes to donate money to Relay for Life.  Several of the nominees even created prizes for their classes if they won.
AP Human Geography teacher Dan Plonski took home the title of homecoming king. He rewarded his classes with a fun day outside to celebrate the big win.
"It feels great to be King!" Plonski said. "The notoriety of becoming SHS's first-ever faculty homecoming king is something that I will cherish for the rest of my career."
The homecoming faculty queen title was awarded to Angela Eaton who raised the largest amount of money for Relay for Life.  
As for the selection of the senior homecoming king and queen, out of 12 girls who ran, Trinity Blackley (12) won the title. Catherine Karn (12) was runner up and Collene Belue (12) won the third-place crown. The ladies were not allowed escorts on the field in an effort to maintain social distancing rules.
"Winning this title makes me glad to know that I have a connection with most of the school and to be known among the students," Blackley said.
The title of homecoming king was awarded to Paris Ferguson (12). The traditional homecoming game was cancelled due to complications with COVID-19.  Unfortunately, the winners were not able to accept their crowns on the field, but they were still honored at a different game in front of a home crowd.  
Overall, Student Council was able to create a unique homecoming experience for all, despite the challenges of the pandemic.
"Homecoming took a lot of preparation, but we ended up making it work and came up with a new and better idea for this year and the next," Sallie Barre (10) said.