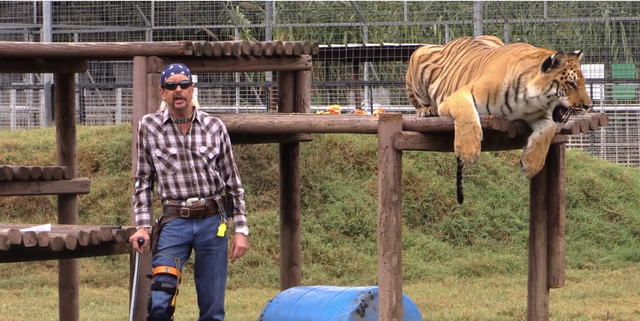 photo courtesy www.cosmopolitan.com
Tiger King Rules the Screen
Netflix docu-series Tiger King gained many views and rapid popularity from the moment it came out in early spring. The world was in quarantine, and the show's intense plot and unexpected details provided an escape from the boring routine of staying home. The show remained ranked number one in Netflix's top 10 most popular list for a record-breaking 25 consecutive days, according to comicbook.com, and it gained over 34 million U.S views within its first 10 days of release, according to variety.com. The stunning success of views led to a ripple effect, and Tiger King spread through all forms of media. The almost unbelievable cast gained overnight fame and large social media followings, and the topic of exotic animal holding became widely controversial. 
The show follows a zookeeper in Oklahoma named Joe Exotic and his unusual personal life, shady business trading, holding of exotic cats, and most importantly his deep-rooted hatred for Carole Baskin. The series interviews and stars many people, each more unbelievable than the last, but Joe Exotic and animal rights advocate, Carole Baskin, may be the most shocking relationship of all. Carole Baskin owns Big Cat Rescue in Florida and repeatedly attacked Joe Exotic for his unethical treatment of the exotic cats in his zoo. Baskin's efforts and Joe Exotic's many bad business decisions led to the downfall of his zoo, which is captured in the series. Viewers watched as the two made public attacks against each other through social media and entered into a risky rivalry.
Joe Exotic is currently in jail serving a 22-year sentence for 17 federal charges of animal abuse and hiring a hitman to murder Carole Baskin on two accounts. The show takes us into the lives of not only Joe Exotic but also Carole Baskin, uncovering shocking facts about her own life, like the fact that her ex-husband who had passed away leaving her many exotic cats had very mysteriously died, and nobody knows how. Joe Exotic has publicly accused Baskin of killing her husband to gain control over his large exotic cat collection repeatedly in the past, but the Netflix series broadcasted the debate, making the question of Carole Baskin killing her husband a common controversy among viewers.  
Lou-Lou Morris (10) watched the series when it trended this spring and was surprised to see how easy it is to obtain exotic animals in the U.S. She didn't find it easy to like any characters in particular as they were all deeply flawed. 
"I do not think that Joe Exotic should be freed because he has committed many crimes against both humans and animals," Morris said. "I think that there is evidence pointing towards Carole Baskin being guilty, but Joe is not a very trustworthy person so his claims could be false." 
"
I do not think that Joe Exotic should be freed because he has committed many crimes against both humans and animals."
— Lou Lou Morris
The show even has a tie to South Carolina, when interviewing another exotic cat zookeeper named Bhagavan "Doc" Antle. Antle was interviewed and his shady treatment of workers and animals was highlighted. Antle has one of the biggest and most successful exotic cat zoos in the nation that is located in Myrtle Beach. 
AP Psychology and Art History teacher, Allison Little, enjoyed the series in quarantine. She enjoyed how mysterious Carole Baskin was and suspects that she did kill her husband. Little was shocked to see Antle featured on the show after growing up in Myrtle Beach. 
"I was most surprised to see Bhagavan "Doc" Antle riding an elephant and being featured in the very first episode!  I grew up in Myrtle Beach and… I remember going to an outdoor shopping mall and seeing tiger cubs on display where tourists could take their picture with the cubs, certainly for a pretty penny," Little said. "As soon as I saw Doc on the TV I knew right where his safari zoo was in Myrtle Beach and it made me sad for the animals but also angry at his irresponsibility regarding the care of precious creatures." 
The show's many shocking and laughable moments gave it the opportunity to go viral on all platforms. Memes were made of memorable moments and characters in the show and spread rapidly through Instagram and Twitter. A song was even created on Tik-Tok singing about how Carole Baskin killed her husband and became an extremely successful dance trend. While none of the cast members were very likeable, and there was not a set antagonist or protagonist, the whole cast gained overnight fame. The reach of Netflix allowed random zookeeps from Oklahoma to become household names around the world. 
While the series served as prime entertainment, experts and animal advocates worry that it glamorizes the real issue of exotic animal holding and abuse. Debbie Leahy, senior strategist of captive wildlife at the Humane Society of the United States, spoke in a recent interview with the Independent on how the ways of Joe Exotic have become a household joke and underscore the real crimes that he committed.
"Things are a lot worse than what was portrayed in the Netflix series," Leahy said. "We hold Big Cat Rescue and the Baskins in highest regard. Not many sanctuaries do rescue and advocacy and Big Cat Rescue does both, and they do them very well."