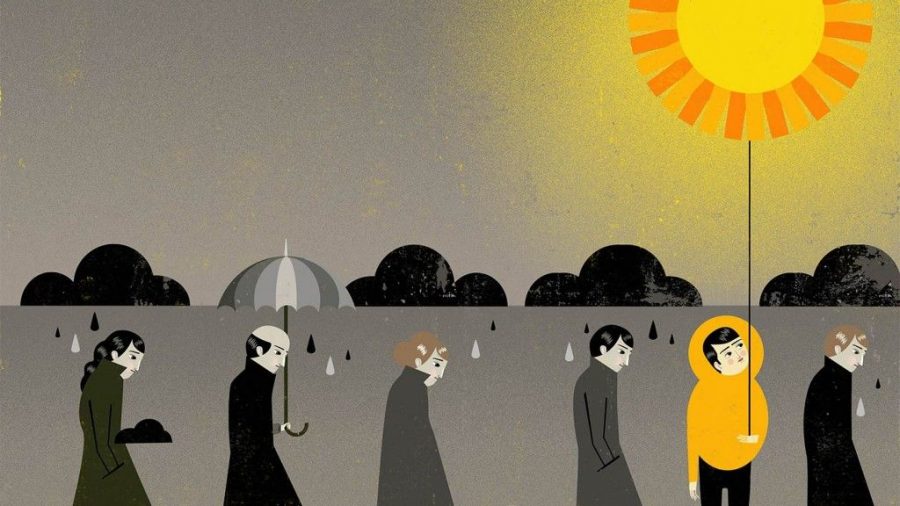 Photo courtesy everydayhealth.com
Mood and Weather
Human emotions are found to be vulnerable to the changing weather and often reflect what is going on out the window.
As daylight gets shorter and the nights become longer, summer turns into fall and the winter weather settles in, people start to see their moods and behaviors change. Why is it that some people start to become depressed and lazy?
Human brains have a complex response to day length throughout different seasons. These are highlighted by the events of depression during the winter, or Seasonal Affective Disorder, which occurs in places where day length in winter is shorter. In the summer, people spend time outdoors in warm weather. In contrast, people decide to stay inside during winter months due to the cold weather. While staying at home, most people do not get a lot of exercise and can become lazy and depressed. This can especially affect people who play sports and need to stay in shape.
For baseball player Luke Fisher (10) this theory is quite the opposite. "Staying at home during quarantine helped me become more responsible with staying in shape and working out on my own for baseball at home," Fisher said.
During the summer and spring months, people enjoy being outdoors and going on vacations while the warm weather is around. Due to the pandemic, many people found themselves not being able to go out and about, so they had to find ways to try and keep themselves entertained to prevent themselves from lazy.  
E.B. Maultsby (9) kept herself entertained by going on walks and doing big sidewalk chalk projects.  
"Being outside in the warm weather put me in a better mood and helped relieve the stress of being stuck at home," Maultsby said.
According to a 2008 study titled "The Effect of Weather on Daily Mood," weather's daily influence has more of an impact on a person's negative mood rather than helping one's positive mood.  "A person's mood may depend on their weather personality type," psychologist Dr. John M. Grohol said. 
Weather has a measurable impact on people's mood and behavior but is dependent on many other factors. If you find yourself becoming lazy or sad during the upcoming winter months you might have a clue as to why.