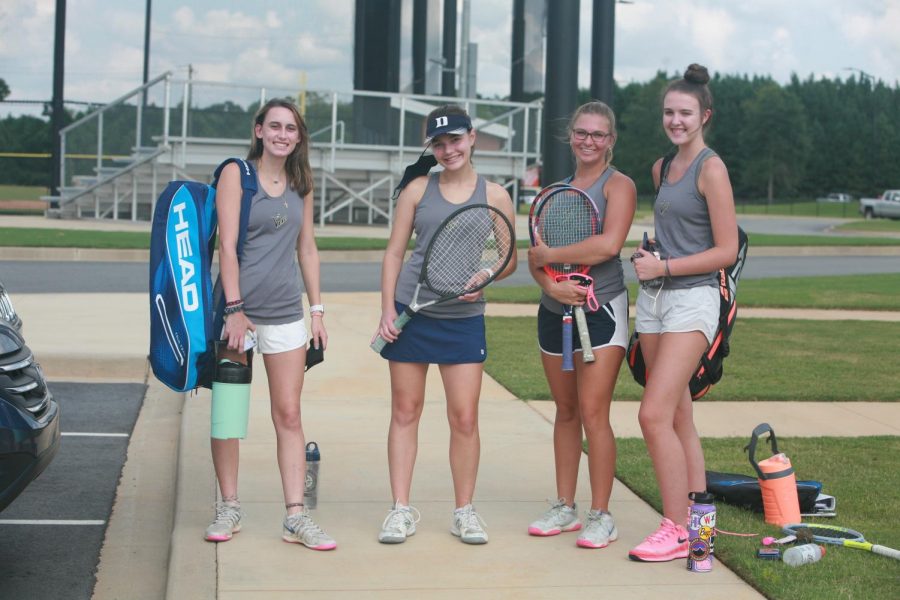 Successful Season for Girls Tennis
Team spirit, determination and consistency led the varsity girl's tennis team to a successful 2020 season. The girls finished as the 5A region champions and made it to the second round of playoffs.  
In a tight match on Oct. 9, the Vikings defeated Wade Hampton 4-3 to win the region title. Winners included Sophie Clayton, Katherine Bauer, Anna Wallace Cheek, and Ava Mobley. The match went to number one doubles to break the tie, and the Lady Vikings triumphed. With the region win, all matches during playoffs had home court advantage.  
The girls easily overtook Fort Mill 6-0 in the first round of the playoffs. The second round, however, proved to be a challenge, and the match ended with a close score of 3-4. Despite the loss, each player is proud of their game and will continue to work hard in preparation for next season.  
Number three player Eliza Hull (11) is working on positivity and mental game in preparation for next season. 
"I'm most proud of the fact that I never quit," Hull said. "For the future, I'm working on my forehand as well as my attitude when I lose a point." 
The varsity team also participated in the Belton Hall of Fame Classic Tournament. Sophie Clayton, Katherine Bauer and Grace Till placed second in their singles rounds. Number two doubles, played by Anna Wallace Cheek and Ava Mobley, won first place for their section. The overall team came in second and was awarded the sportsmanship award.  
Anna Wallace Cheek (11) is especially proud of her doubles strategies with Ava Mobley during the tournament.  
"My favorite part of the season was winning Belton with Ava because it felt like our work during the first half of the season paid off," Cheek said. 
The JV tennis team was led by new coach Devin Hileski. He worked with the players on conditioning and maintaining positive attitudes throughout the season. The team finished undefeated with a 13-0 record. 
Catherine Karn (12) serves as a role model for the team's youth.  
"The best part of this season was spending time with younger girls who just joined the team," Karn said. "I got to know them pretty well, and I'm definitely going to miss them!"