Fifteenth Birthday Festivities
The cultural tradition of Quinceañeras
It is common for teenagers to spend time and effort planning for their birthday, but they probably do not spend as much time and effort as Cisne Idrovo (11). She rehearsed for her fifteenth birthday for months.  
Idrovo had a quinceañera when she turned fifteen last year. A quinceañera, also known as a quinceaños or quince, is the celebration of a girl's transition from girlhood to womanhood on her fifteenth birthday. It is celebrated in Mexico, Latin America, the Caribbean and in Latino communities in the United States.  
The quince typically begins with a religious ceremony. The ceremony is followed by a reception, where there is food, music and dancing. The girl is accompanied by her Court of Honor, which is composed of close friends selected to be damas ("maids of honor") and chambalánes ("chamberlains"). Symbolic traditions are often performed, such as replacing the girl's flats with high heels to symbolize her passage to womanhood.  
Idrovo incorporated several traditions into her celebration, including a choreographed waltz with her Court of Honor, a father-daughter dance, the changing of the shoes, and she received a crown from her mother. She also performed additional surprise dances with her Court of Honor.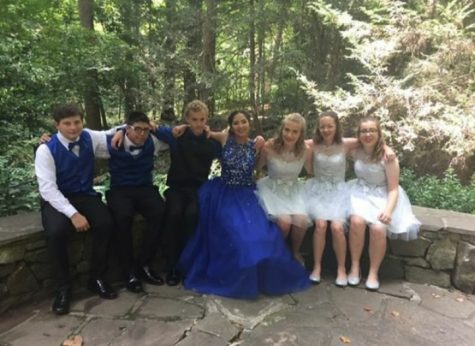 "I danced the first song with only the guys, my second dance was done with my older brother, and my last dance was with the girls," Idrovo said.   
Keating Lamson (11) was in Idrovo's Court of Honor, and she enjoyed spending time with her friends during dance practices and the celebration. 
"It was so much fun being a part of Cisne's quinceanera," Lamson said. "…we had to go to practice for months to learn two different dances to perform during the celebration. I've never had to prepare for months for any of my birthdays before, so it was a new experience, but I enjoyed it a lot. It was way more theatrical than a typical birthday celebration." 
Quinceañeras were originally held to signify that the girl was ready for marriage, but the meaning has since evolved. Idrovo was able to make the celebration unique and meaningful. 
"For me, my quince was a special event where I finally became a woman and got more freedom making my own decisions," Idrovo said. "I made my quince my own by choosing the theme of it, making the final decision on what dress I wanted, choosing songs for the waltz and the surprise dance, choosing the outfits for the surprise dance, and picking out my friends for the Court of Honor. I also came up with a speech that I said in English and Spanish for my guests."