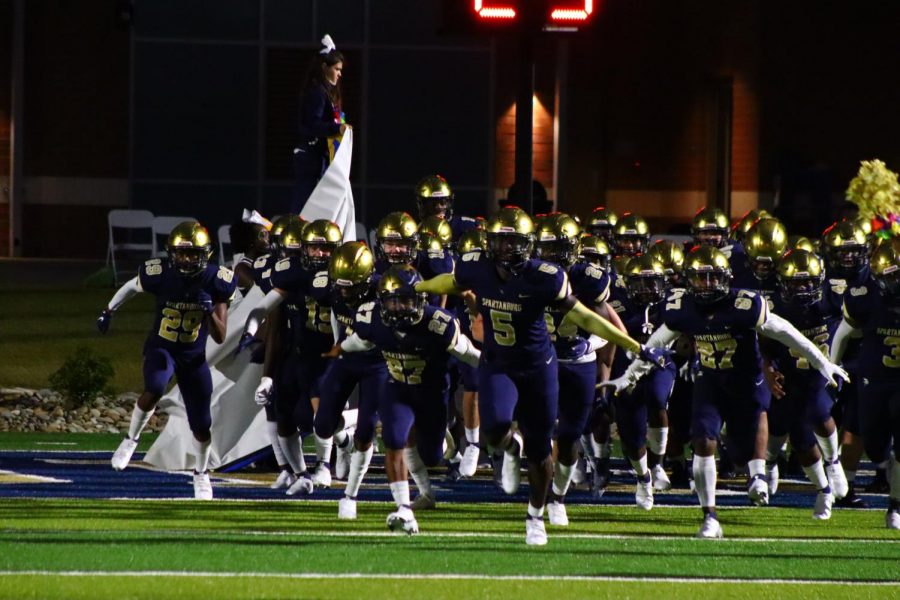 Time for Football
On Sept. 25, South Carolina high school football returned after being briefly postponed due to the COVID-19. The plan for the Vikings was to have a 7-game regular season, with playoffs and a state championship game set for December 4. The reality has been that most Varsity games have had limited seating due to the pandemic, with 1000 spectators on the home side and 500 spectators on the visitor side. After cancellations and rescheduling games, the Vikings, led by new head coach Mark Hodge feel a sense of success in their 4-3 season.
John Love (11) believes that Coach Hodge can turn around the football program and eventually lead the team to make a push for the playoffs in the next few seasons.
"Playing football this season was harder than any other season because we lost a lot of practice time, but it went well so far and we ended the season with a win against Broome," Love said.
J.D. Ratliff (12) loves being on the team and being around a group of hard workers. He believes the team can continue to overcome numerous obstacles. 
"The season wasn't quite what we hoped for, but I love the direction the new coaching staff is taking the program in. I'm glad we were able to finish the season strong with 3 wins in a row," Ratliff said.
DeAndre Davis (11) believes that being on the football team is like having a family of 60 brothers, where they might fight and not get along sometimes, but at the end of the day, they depend on each other. 
"We didn't have the best start of the season, but we fought together and finished the season strong with a win against Riverside, Boiling Springs and Broome. The goal is to keeping going and eventually win a state championship for the school," Davis said. 
The new football coaching staff is setting the players up for success and creating a hard work environment, so they are able to overcome numerous obstacles and reach various achievements. The end goal for the Vikings is to bring back the legacy of a state championship to Spartanburg High School.