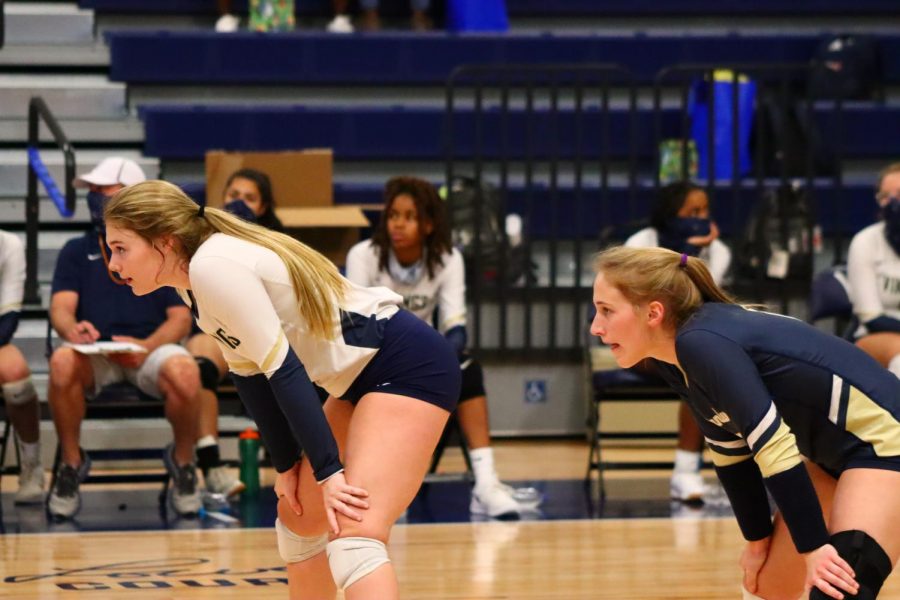 Viking Volleyball Veterans
Volleyball team captains lead newcomers through mentorship and teamwork
Spartanburg High School's varsity volleyball team was led by captains Madison Shaw (12) and Gracie Eubanks (12), as well as Liseidy Santiago (12) and Toni Carter (12) this season. The team finished the season with an overall record of 3-11-3 and a league record of 1-8. The Vikings started the season out on a high note with a record of 3-2-3, but unfortunately, they faced many unforeseen obstacles and didn't have the season they wanted.  
The team played 57 sets and racked up 403 kills (7.1 k/s), 108 serving aces (1.9 a/s), 107 blocks (1.9 b/s), 974 digs (17.1 d/s), 370 assists (6.5 a/s), and 726 receptions (12.7 r/s). Eubanks led the team in attacking with 152 kills in just 57 sets played. The seniors were able to lead the Vikings this season through their hard work and mentorship. The Vikings hope to take this momentum and have a successful season next year. 
Lou Lou Morris (10) enjoyed having the seniors around as mentors and friends. She appreciated that they always tried to build the team up and finish games out strong, even when games weren't going their way.  
"They gave every game their all and always helped the team out by motivating everybody on the court to try their best," Morris said. 
In the upcoming season, Karly Sandor (10) wants to take on the mindset these seniors established throughout the year – that of retaining hard work and a good attitude.  
"I look up to the seniors because they were so determined and never had a bad attitude.  They were always willing to do what was asked of them, and they left everything on the court," Sandor said. 
Katie Camp (9) appreciates all that she has learned from the seniors on the volleyball team.
"The seniors led the varsity volleyball team very well this year.  They were great leaders, we all love them and are going to miss they greatly," Camp said.