Bobo Cheers On
Bobo takes to the field and serves as a foundation for the cheerleading team
Dewayne Bobo (12) began his cheerleading career as a junior, joining the Varsity team for a total of two years. Bobo recently delved into competitive cheerleading this past year, a scene in which cheerleading teams from other areas compete against one another to become the best and claim the trophy. Bobo competes out of the "back spot" position, where he must support the flyer, a cheerleader performing flips, and act as a safety net in case the flyer happens to fall. The "back spot" position is considered the backbone of the cheerleading formation. As such, Bobo carries a significant amount of responsibility when the squad is performing a stunt.
"I chose to start cheer because I would watch All-Star Cheer and was always fascinated by the stunts they did, and I wanted to learn how to do it. So, I tried out and made the team," Bobo said.
Bobo's interest in cheerleading stemmed from All-Star Cheer. This is a facet of cheerleading in which there are extremely dynamic cheerleading teams that can consist of anywhere from five to 38 cheerleaders. All-Star cheerleaders perform a plethora of choreographed movements, such as stunts, pyramids, dancing, gymnastics and tumbling. Unlike traditional cheerleading, this facet of cheerleading utilizes a spring floor. All-Star cheerleading is often considered the highest level and most athletic form of cheerleading. Watching these displays of athleticism and skill motivated Bobo to try out for the SHS cheerleading team and begin his cheerleading career.
"Cheerleading was a positive aspect because I knew I had something to look forward to at the end of the day. Cheerleading is the one consistent thing in my life besides school," Bobo said.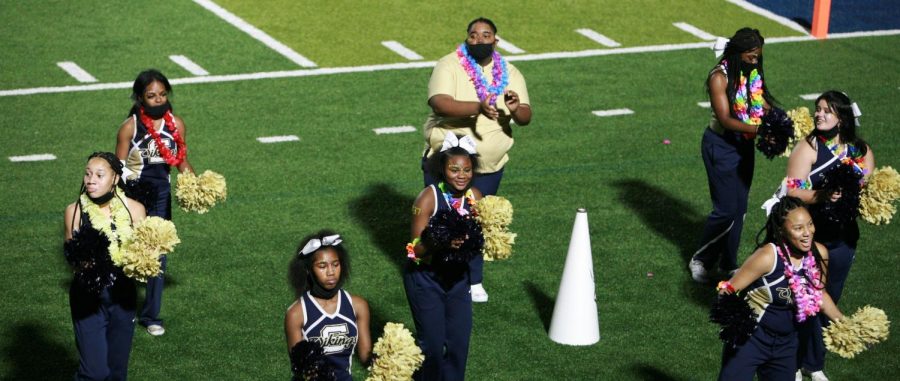 The activity has cemented itself as a positive force in Bobo's life over the past two years. Like all other sports, cheerleading requires focus, determination and consistency. Bobo was able to look forward to each time he could take part in cheerleading due to his affinity for the sport. His favorite part of the season was dressing up in a uniform and competing on Saturdays.
This sport has helped shape Bobo as a person by teaching him lessons and deepening his camaraderie with his teammates.
"Cheerleading means the world to me. I would not trade my two years on the team for anything. It made me who I am today," Bobo said. "It taught me that it's not always what's best for you but what's best for your teammates and how you can trust and depend on them. Cheerleading means character to me."
It is unknown whether Bobo will continue his career as a cheerleader in college and beyond. However, he has yet to decide what his future holds.
"For right now, my cheer shoes are in a glass case, and I am retired, but only time can tell," Bobo said.