Tex-Mex Restaurants Go Head-to-Head
The introduction of a new chain to Hillcrest Plaza brings competition to a local favorite
Popular chain restaurant Chipotle Mexican Grill has recently established a location on the Eastside of Spartanburg. This Chipotle has been established in the former Marco's Pizza building of Hillcrest Plaza. The restaurant is now open for both inside and drive-thru pick up, and it has become a popular choice on Door Dash. This Chipotle is the second Chipotle in the city of Spartanburg, and it is the first Chipotle in Spartanburg with a drive-thru. However, with Taco Dog located in the same plaza, Chipotle brings competition in for the local Tex-Mex grill.  
Luke Fisher (10) is an employee at Taco Dog, and he believes Taco Dog will continue to do well because of its broad menu and the variety of Tex-Mex foods served.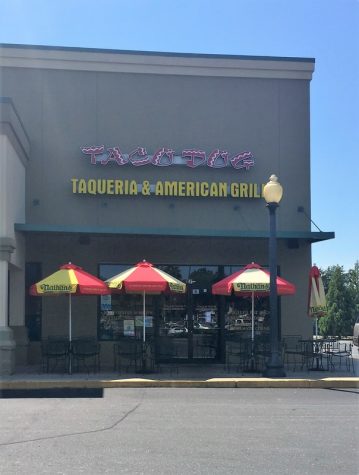 "I think that Taco Dog's business might go down a little when Chipotle first opens, but after a while, the business for Taco Dog will return to normal because Taco Dog's a local business that has a good number of locals who support it," Fisher said. 
Still, Spartanburg foodies are looking forward to having Chipotle on the Eastside as another Mexican dining option. Annie Colbath (11) likes Taco Dog more than Chipotle, but she is still excited to take part in dining at the new Chipotle. 
"I like Taco Dog more because it's more enjoyable to eat at and because it's local and it feels more authentic," Colbath said. 
Lilly Byers (11) prefers Chipotle, but still thinks the cheese dip at Taco Dog is much better. 
 "I think Chipotle's burrito bowls have a lot more flavor with all the roasted veggies, salsa and stuff. I'm glad they are putting a Chipotle on the Eastside because now I live closer to one!" Byers said.