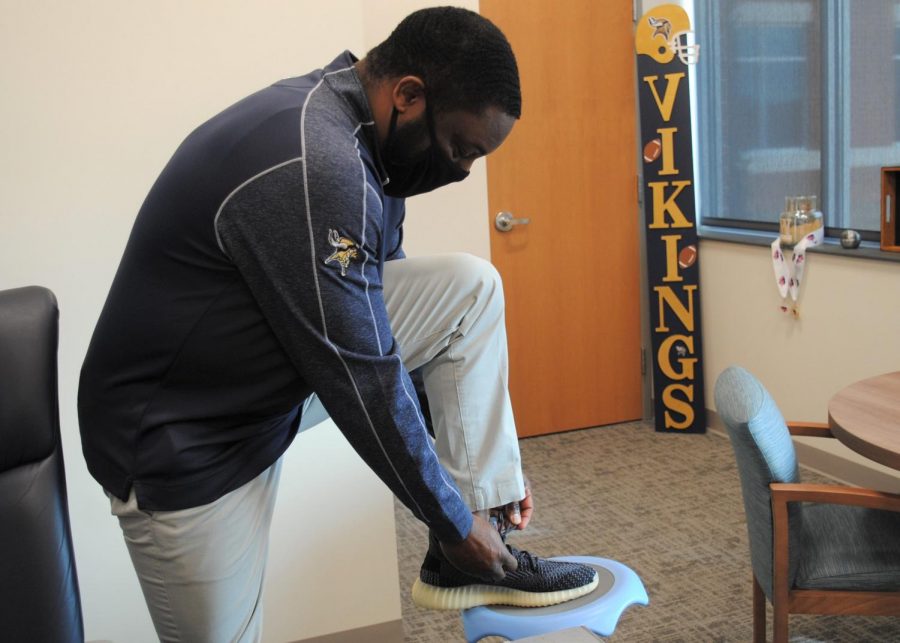 Delving into the Life of a Principal
Behind the scenes of Vance Jones's journey to becoming the Viking leader
February 1, 2021
As he left what is now known as Gibbs Stadium for the last time as a Wofford football player, Vance Jones did not know what lay before him. As a finance major, he had his eyes set on a job at a local bank, where he could use the skills he acquired in college. However, when he got to that first job, he realized banking wasn't his purpose in life. Less than two weeks after he began his job, he quit. 
While going through school as a child, Jones found a passion in math, where he excelled and obtained high grades. This passion fostered a desire to become a math teacher. When he was applying as an incoming freshman to Wofford College, where he received a football scholarship, he settled on finance because the school didn't offer an education major. 
After quitting his job, Jones went back to what he felt called to do as a child and committed to a teaching career through the critical needs program, where he mastered the skills needed to become a business administration teacher. One day, his strong leadership skills were discovered during observation. Jones's presiding principal consequently recommended him to join education administration.
"
We have such great teachers, that are so knowledgeable and caring. They come together with the wide variety of students to work together, play together, laugh together, cry together and represent Spartanburg High school magnificently."
— Vance Jones
Following this recommendation, Jones relocated to the Northeast, where he attended graduate school at Cambridge University to become a principal. He joined Spartanburg High School as an assistant principal, and following the departure of former principal Jeff Stevens, Jones became the Viking leader.  
As the principal of such a diverse school, Jones finds satisfaction in watching this student body excel, whether in the classroom, athletic field or theater.  
"As the principal of Spartanburg High School, I find the most joy in being out and about when students are at lunch, having athletic competitions, and just watching the students succeed," Jones said.  
This year, with COVID-19 bringing new issues to the table, Jones has found a way to safely navigate the return of students to the classroom.  Every decision he has made has been looked at from all health and safety perspectives, as well as a student point of view.  
"This school year, which has been plagued by COVID-19, has been difficult to maneuver through because I have to try to balance what the students want as well as being safe," Jones said. "One of the hardest decisions I had to make was how to do lunches. Other schools have lunch in their classrooms, but I wanted the students to be able to have lunch with their friends." 
Outside of school, Jones dedicates his time to a relatable hobby: collecting sneakers. When he first started collecting, Jones was enamored with Jordans, which make up most of his present-day collection. Recently, Jones has shifted his eyes towards other brands, particularly new Adidas shoes such as Yeezys and Human Races. This passion has led to a collection that contains upwards of 50 pairs of shoes.  
As he looks back on his first two years as principal of Spartanburg High School, Jones is thankful for how his school has come together. Despite the immense diversity within the student body and staff, Jones is proud of the way these differences are put aside in order to positively represent the school. 
"We have such great teachers that are so knowledgeable and caring," Jones said. "They come together with the wide variety of students to work together, play together, laugh together, cry together and represent Spartanburg High school magnificently."