Celebrating District Seven's Black History
Vikings spend the month of February honoring the African American community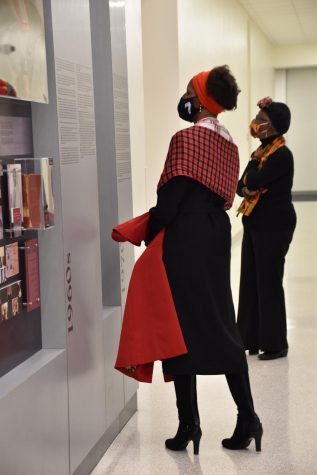 Throughout the nation, Black History Month is celebrated in February to recognize and respect important African American figures and their contributions to society. Spartanburg High School celebrated their black history through various activities and socially-distanced events involving students, teachers, former alumni and impactful community members.
Black History Month festivities are not new to SHS this year, but 2021 marked the reveal of the Carver High Tribute Wall located across from the cafeteria. The wall includes memorabilia objects, historical facts and notable alumni of the former Carver High School. Carver High served as Spartanburg District Seven's public school for African American students during the segregation period. 50 years ago, it merged with Spartanburg High School, which was formerly a whites-only school, to form one integrated school.
The wall was officially revealed at a ribbon cutting ceremony presented by the Black History Club on Feb. 5. The audience was filled with Carver High graduates, and the speakers included former superintendent Dr. Russell Booker, superintendent Jeff Stevens, principal Vance Jones and various members of the Black History Club. Guidance counselor Jerome Rice also spoke to present facts and history on Carver High and the integration process.
The wall serves not only to respect the Carver High alumni, but also to remember the accomplishments of the school and its teachers despite their struggles due to underfunding and racist policies in the South at the time.
The Black History Club continues to celebrate the month by asking daily trivia questions on the morning announcements about important African American figures and awarding prizes to students who answer correctly. They also provide engaging activities on their Schoology course specific to each week's theme. Week one, for example, was centered around black literature featuring local black authors. The course offered book recommendations and profiles on current African American authors. Each week also includes special dress up days to strengthen school spirt and African American pride. So far, these dress-up days have included "Too Fresh Tuesday," "African Print Day," and "Decades Day."
Drequasha Beason (11) is an active member of the Black History cCub and enjoyed organizing the month and having a voice and vote on what activities would be presented.
"My favorite (event) so far is our 'Too Fresh Tuesdays' which is when we dress up in our best dress on the first and last Tuesday of the month," Beason said. "Another activity we did this week were the doors where many teachers went all out and showed the beautiful things of what black history is all about."
The Black History Club will continue to work hard with the student body and faculty to celebrate Spartanburg High School's African American history beyond just the month of February.
Teacher Meredith Jack is very involved in the Black History Club and is passionate about keeping the Black History celebration going past a single month.
"We will continue to complete service projects within in our communities that help people of color," Jack said. "We will also continue to pour into our members so that they can be the voices who celebrate those who are defying the odds and breaking barriers."