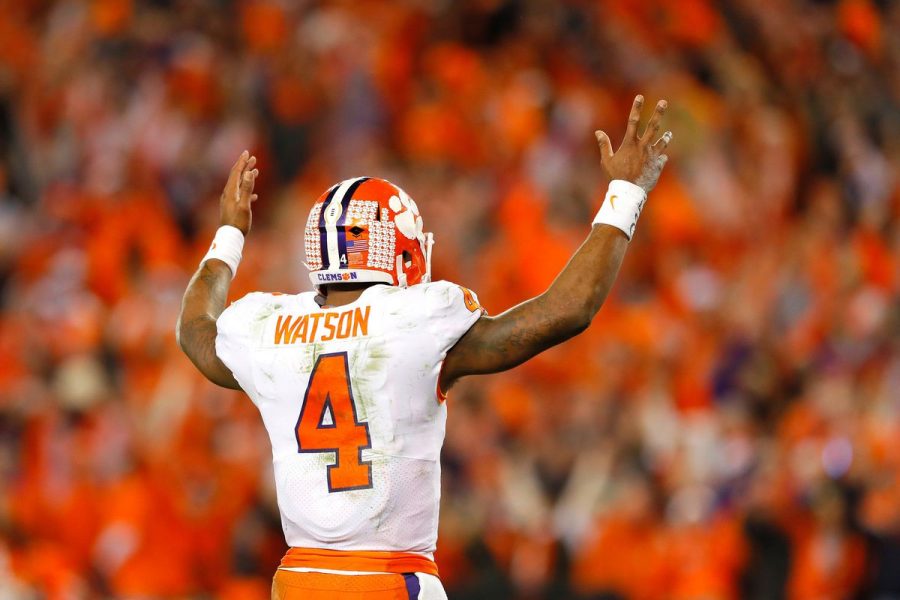 Photo courtesy chicagotribune.com
Watson's Attempt for NFL Resurrection
Clemson legacy Deshaun Watson attempts to revive his football career with a move away from Houston
NFL free agency has been become increasingly controversial, as players such as Deshaun Watson are demanding their teams to move them elsewhere. Watson, who used to played collegiately for Clemson, led the team to the 2016 CFP National Championship while obtaining impressive accolades in his collegiate career. In the 2017 draft, the Houston Texans selected Watson in the first round with the 12th pick. Watson showed off his talent and started showing signs of being a potential franchise quarterback for the Texans, but year after year he was unable to lead the Texans to the playoffs.
A key factor in Watson's lack of productivity in the offense is Bill O'Brien's coaching staff, who traded away DeAndre Hopkins, Watson's main receiving target. After one disastrous season without his favorite receiver, Watson demanded for the team to trade him due to lacking offensive support. 
Teams such as the Miami Dolphins, San Francisco 49ers, Carolina Panthers, Denver Broncos and the New York Jets are eager to make a deal with the Texans to trade for Watson.
Emory Butehorn (10) thinks Watson is a talented player and hopes he gets traded to the Carolina Panthers.  
"If Deshaun Watson gets traded to the Carolina Panthers then their offense would be deadly as he would get to play with Christian McCaffrey and D.J Moore. He could be the key player that the Panthers' need in order of becoming Super Bowl contenders," Butehorn said. 
Even though the Carolina Panthers have a chance of picking up Deshaun Watson, the player has shown more interest towards the Denver Broncos, New York Jets and San Francisco 49ers. 
Christopher Greenway (10) believes the best fit for Watson is the 49ers for its coaching staff.
"I think Deshaun Watson would be a good fit for the 49ers because he's mobile and would be paired up with a good offensive line and an offensive minded coach. They definitely will make the playoffs if they trade for him," Greenway said. 
Other fans believe Watson will be successful anywhere. This sentiment is shared by Robert Liollio (12), who considers himself a diehard Clemson fan and an avid Deshaun Watson follower.
"Whether Deshaun Watson ends up in New York or Carolina, he will revolutionize the team that he joins," Liollio said. "He's just that type of player and most importantly, he is a winner."