Disney Princess Diversity
Increased representation allows anyone to be a princess
Throughout Disney's history, young children all over the world have watched the classic princess movies. While these stories of magical fairy godmothers and talking animals have kept children captivated for nearly eight decades, they have also taught valuable life lessons throughout the films.  
While the first five princess films were filled with an assortment of colors, sounds, and true love, they lacked people of color. In the 1992 movie Aladdin, viewers finally got the first look at a princess of color and her culture. The three following princess movies, which included Pocahontas, Mulan, and The Princess and the Frog, continued the pattern of diversity within Disney. These movies included fictional elements, but more importantly, representation for children everywhere. 
Different cultures being displayed to young audiences is a critical element of representation needed in the entertainment industry today. After years of criticism, the last twenty years of Disney's history have been the most inclusive yet. The studio has made efforts to give children everywhere a character they can relate to. They have also made strong efforts to have an impact on children's views on the world by exposing them to cultures they might not have seen otherwise, while still giving them the entertainment and fascination they would have with any movie.  
Tamaria Dawkins (10) is a self-proclaimed "Disney Fanatic" and has been watching the princess movies for as long as she can remember.  
"I grew up watching the Disney princesses, and I have always liked how they show little girls not to accept anything below their standards and to believe they can do anything they put their minds to," Dawkins said.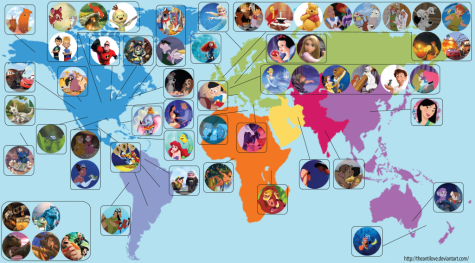 Disney continues their efforts toward more diversity with its newest movie, Raya and the Last Dragon. Raya is a Southeast Asian young woman who is on a quest to find the Last Dragon to unite her people. Fans have shown lots of praise for the new trailer as they are grateful for the representation she brings to the industry.  
Kimberlie Hanner writes for Universe.byu.edu and is grateful for the representation she sees in the new movie. 
"As a Filipina American, I am heavily emotional over this trailer for Raya and the Last Dragon. I am so proud of this representation," Hanner said.  
Parents are praising the franchise for the inclusion of different cultures from around the world. There is still a long way to go but the percentage of women and diversity in children's films has increased significantly over the past decades. Misrepresentation of cultures can cause confusion and spark controversy. Positive media portrayals of different ethnicities have been proven to teach young children about cultures in optimistic ways. 
Caroline Hutchins (9) remembers looking up to the princess to be a better person.
"I think that there should be more diversity in the princess movies, but hopefully with the new movie Raya coming out it will become better in the movies to come," Hutchins said.