50 Years of the Viking
Student body celebrates five decades of the revered mascot
50 years after the first graduating class of Spartanburg High School received their diplomas in the spring of 1971, the community has come together to celebrate the rich history of this school. Joined in the fall of 1971 with Carver High School, the birth of the new SHS was the final step in the desegregation process that joined Black and White students. To signify a turning point in SHS history, a new mascot– the Viking- was adopted for the newly integrated school. 
Chris White, student council adviser, helped to plan activities throughout the week of Mar. 9-12 for the Viking's "birthday bash" that represents the integration of Carver and Spartanburg high schools.  
"Integration for many schools was not an easy thing to do," White said. "Because of the effort put in 50 years ago, we can be proud of what they accomplished and what we are accomplishing today." 
On Mar. 9, students and staff were encouraged to dress in extreme blue and gold to show off some Viking spirit, and on Mar. 10, cupcakes were sold during lunch for a festive "birthday" treat. Student Council sold T-shirts that celebrated "50 Years of Excellence" to the student body, who were then encouraged to wear them on Mar. 11. The school was then opened to former alumni after school to socialize and reminisce on the history of the school. To finish off the celebratory week, students and staff were encouraged to dress up for '70s dress up day on Mar. 12, to honor the school first opening in 1970. Viking Corporation as well as marching band performed during all three lunches. 
Drew Lawton (12) plays the alto saxophone and helped with the Viking band performance during lunch.
"As part of the 'Viking Birthday' celebration that celebrated 50 years since the integration of Spartanburg High School, the band played '70s music that was popular at that time," Lawton said.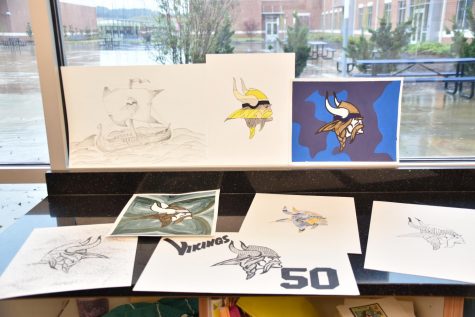 Throughout the celebration week and after, Viking-inspired art hung in the main hallway and featured pieces that were centered around the Norse mascot as well as the school colors of navy and gold. 2-D design classes produced projects that reflected the Spartanburg High School Vikings and pottery and sculpture classes produced pieces that resembled viking artifacts.