Vaccine Passports
Ethical debate over travel required vaccinations create headlines across America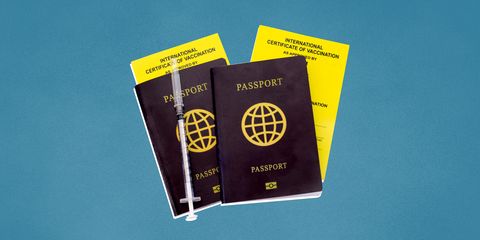 The increase in vaccine accessibility and fast approaching summer travel has spurred an ethical debate over vaccine requirements. One possible travel requirement is vaccine passports, or digital certificates to prove vaccination status, that could be required in order to board airplanes. While vaccine requirements would ensure the immunity of all travelers, there are concerns over whether they infringe on an individual's medical freedoms.  
Comprehensive health teacher Ed Gosnell believes vaccines passports should be required. 
"
"I do believe that vaccines should be required for travel" Gosnell said. "In my opinion, in this case, individual freedom of choice should be super ceded for public health concerns."
— Ed Gosnell
One model for digital vaccine passports has been created by The Commons Project, a nonprofit focused on developing advanced technology. Their product, the CommonPass was tested successfully on two international flights in Nov. Following these successful tests, various airlines have adopted the CommonPass digital app as a program to prove vaccination status, including JetBlue, Lufthansa, and United Airlines. The pass is utilized on select flights departing from New York, Boston, London, and Hong Kong. 
The Federal Government has stated they will not require travel vaccinations by federal mandate, therefore individual states each decide their own travel requirements. This makes vaccination requirements unlikely, as many states disagree on the proper course of action. According to nytimes.com, both Texas and Florida governors have issued similar orders banning businesses from requiring proof of vaccination. In contrast, New York became the first state to create a program for proving vaccination status by launching the Excelsior Pass in March.  
In a statement from the official website of New York State, the benefits of the new Excelsior Pass are described.  
"[The excelsior Pass is] a tool to support reopening New York's economy and accelerating the return to pre-pandemic activities" and "a free, fast and secure way to accept proof of COVID-19 vaccination or negative test results to aid compliance with State reopening guidelines," New York State said.   
A major limitation of vaccine passports is they would exclude individuals who cannot receive the vaccine, due to accessibility or medical reasons, as well as those who choose not to vaccinate, possibly due to religious beliefs. This would infringe on the individual freedom of making personal medical decisions.  
Mattie Fulmer (12) disagrees with the implementation of vaccine passports. 
"I disagree with vaccine requirements because then people who do not want the vaccine will feel excluded from travelling," said Fulmer.  
Although vaccine passports would prove the health of all travelers, their implementation is highly unlikely. While some airlines may offer flights that utilize the CommonPass to ensure the health of passengers, vaccine requirements for all travel are unlikely due to differing opinions between states and threats to freedoms of medical autonomy.