3D Printing for a Cause
Van Vleet's company, based on a hobby, supports charity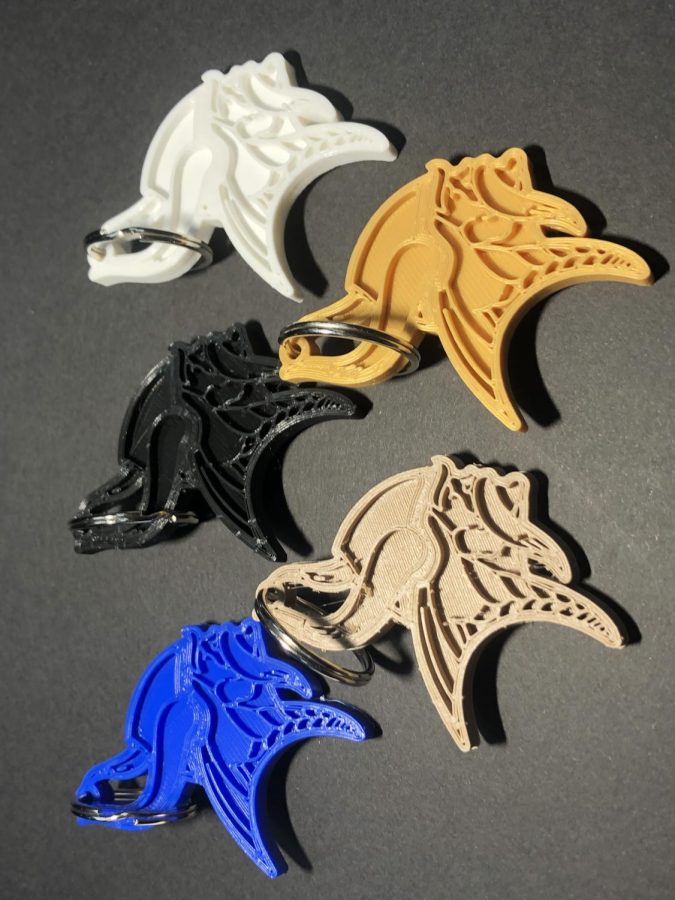 With entrepreneurship becoming more and more common in today's society, it is a good idea to get started early on the trend. That's exactly what Thomas Van Vleet (11) decided to do last year by starting a company based on a hobby of his: 3D printing. He started 3D printing with a college modeling class and quickly fell in love with it. 
The first thing Van Vleet made on his 3D printer was a small treble clef that he designed himself. Van Vleet designs all of the products he sells, including treble clef keychains and Viking keychains. Van Vleet decided to start a business out of his 3D printing because he thought selling Viking keychains would promote school spirit. Van Vleet has also been moving more towards other sales. 
When asked about how his business has progressed since its beginning, Van Vleet said,
"
My business is still fairly small, but I am starting to work on specialty needs in small businesses and have done fundraisers and charity events through the school store."
— Thomas Van Vleet (11)
Van Vleet has even made a sale all the way from New Orleans. After meeting a youth leader named Chuck Mutz at a youth conference, Van Vleet started talking about his business. Mutz needed a piece to help his own business. Van Vleet got Mutz's contact information, and the deal was made. 
Van Vleet had another reason to start his company: charity. Van Vleet started the company around the time of the canned food drive last year. "There are a lot of people who are less fortunate than I am, and it was a way to give to them," Van Vleet said. 
Van Vleet didn't run his business by himself, though. Business teacher Jenifer Richards, who is in charge of the school store, assisted Van Vleet in advertising and producing his products. Richards was impressed by Van Vleet's initiative and wanted to help promote school spirit. 
"We are always looking for ways to promote school spirit and feature the talents of our students while encouraging entrepreneurial endeavors.  Thomas wanted to donate his profits to the Student Council canned food drive, and we felt that it was an important cause to promote," Richards said.