The Evolution of Kanye West
Iconic rap artist's rise to fame
The genre of hip-hop contains some of the most widely influential artists of all time that have changed music forever. One of the best examples of this would be Kanye West. West is a singer, rapper, songwriter and producer from Chicago, Illinois.   
His debut album, The College Dropout released in February 2004 and won the Grammy for "Best Rap Album" at the 47th Grammy awards. West went on to release his second and third albums, Late Registration and Graduation, which both won the Grammy for "Best Rap Album" at the 48th and 50th Grammy Awards, respectively.   
Student Body President Florian Sloan (12)  spreads his enjoyment of West's music by playing it in the mornings during the announcements.
"I really enjoy Late Registration because of its low-key style and old-school feel, yet I really like 808's and heartbreaks because of its establishment of electronic music in hip-hop," Sloan said.  
Kanye released his next four albums, 808's & Heartbreak in 2008, My Beautiful Dark Twisted Fantasy in 2010, Yeezus in 2013, and The Life of Pablo in 2016, following a similar flow of rap as his previous work.
Caroline Byers (9) is a fan of West and regularly listens to his albums.
"I prefer his earlier music like his album 808s And Heartbreak," Byers said.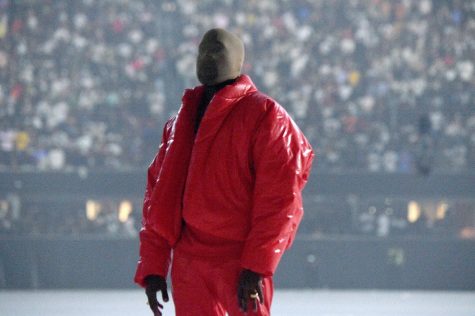 Two years after the release of The Life of Pablo, West released his eighth studio album, Ye. This album strays from his previous hip-hop style, taking on an experimental sound that had not been heard from him before. Ye dives into the topic of his own mental health as he had recently been diagnosed with bipolar disorder before the album's release.   
In an interview with billboard.com, the hip-hop legend talked about using Ye as an outlet to express himself while dealing with mental health issues.
"I'm so blessed and so privileged because think about people that have mental issues that are not Kanye West, that can't go and make that [album] and make you feel like it's all good," West said. 
Eight days after the release of Ye, a collaborative album between West and Kid Cudi, called KIDS SEE GHOSTS, was released, showing a similar sound shown in Ye.  
West has since released his most recent album, Donda, named after his late mother Donda West. This album broke the record for the most-streamed album in a day with 60 million streams, showing the hip-hop icon's continuing success.