Outstanding Viking Awards
Seniors Tristen Davis and Jessie Arrington represent SHS during the Friday Night Rivals broadcast
Lars Iven, Sports Co-Editor
September 21, 2021
 The Vikings took to the field to kick off their football season with an opening home game against the Gaffney Indians. Before the game, two Vikings were presented with notable awards. Jessie Arrington (12) and Tristen Davis (12) were the recipients.
Arrington was extremely surprised when awarded the WMYA-TV Scholar Athlete of the Week award. This accolade is given to students who display superb performance in academic and athletic fields. Arrington displays her academic excellence by maintaining a 5.406 GPA and staying on the All-A honor roll. Arrington started playing soccer when she was four, and she currently plays center holding mid for the Vikings and club soccer teams. Last season with the Vikings, she was recognized with an All-Region award.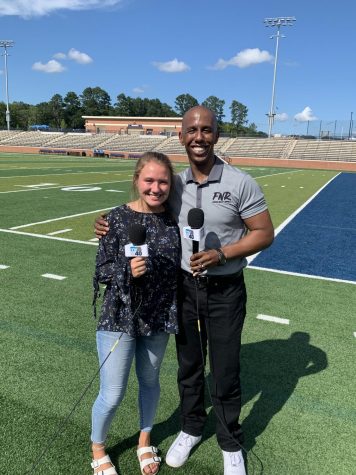 "I balance and stay on top of academics, sports and my social life by having really supportive parents and learning to manage my time efficiently," Arrington said.
Tristen Davis was also recognized at the WMYA-TV pre-game show, receiving the Inspirational Student Award. Students who receive this award must be recognized as an individual who can lead and make a difference in the lives of others. Davis shows his leadership and inspirational skill set by doing volunteer work at local homeless shelters, nursing homes and soup kitchens. Davis is also a member of the Tiger Alliance, Tippers Club and National Honors Society. Davis began to recognize the number of underserved members in Spartanburg and decided it was his time to make a change. 
"Through volunteer work I have gained a sense of compassion in understanding the needs of other people, and I have found that volunteering my time instead of money was a valuable resource that our community needs," Davis said.  
Principal Vance Jones believes Arrington and Davis are outstanding scholars in the classroom and role models outside of the classroom, as well.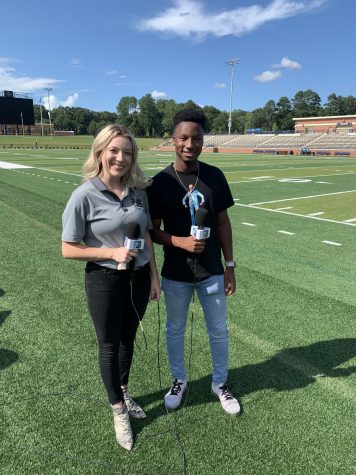 "Jessie and Tristen are very deserving of the recognition they received as our Scholar Athlete and Inspirational Student. Both students are great representatives of all that we want SHS students to encompass,"  Jones said.