Cleveland's Caring Community
The Cleveland Academy of Leadership thrives with help from students, staff and volunteers
In what has quickly become a favorite event at the Cleveland Academy of Leadership, students, parents, teachers and members of the community put on their racing shoes to help support the school that they love. This year on Sept. 25, the second annual Northside Fun Run was held with the help from many volunteers and members of the community. This event was first held in 2019, but was cancelled in 2020 due to COVID-19. Participants could either take part in the 5K race or a mile fun run. The course starts and ends at Cleveland, going onto the Butterfly Trail and through the nearby VCOM campus. The proceeds accumulated from the race were used to benefit the Cleveland Opportunity Foundation. 
Ryan Reynolds, a technology teacher at Spartanburg High School, volunteered at the race.
"It was great to see the Spartanburg and School District 7 community come together to support and raise money for the students and staff of the Cleveland Academy of Leadership," Reynolds said.
The Cleveland Opportunity Foundation is a nonprofit organization that works to support the education given at the Cleveland Academy of Leadership. The Cleveland Opportunity Foundation also provides students from Cleveland high-quality academics as well as extra-curricular activities such as arts and sports to help students reach their highest potential.  
Students at Cleveland not only have received support from the Cleveland Opportunity Foundation, but also through students at Spartanburg High School. The Teacher Cadets work to learn what it takes to be a teacher and get practice by helping kids in the community by tutoring kids at Cleveland that need extra help.  
Mia Weathers (11) is a Teacher Cadet and loves learning about how important teachers are in a student's life.  
"I get to learn about what makes a teacher an outstanding teacher and what you can do to make a difference in the lives of students. The most important thing I've learned so far is the power of 'loving first and teaching second'," Weathers said. 
The Teacher Cadets have also visited the Cleveland Academy of Leadership and read for the kids while dressed up as their favorite literary characters for their book character dress up day. They helped with the many clubs Cleveland has to offer by judging pumpkins at their pumpkin decorating contest and helping them bake muffins in the cooking club.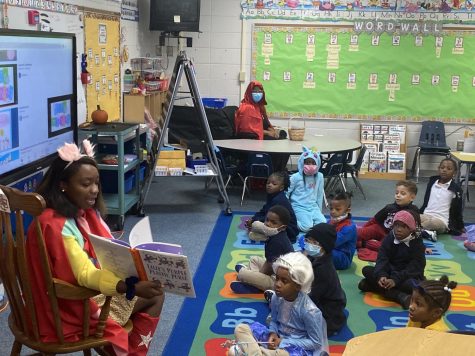 Not only do the Teacher Cadets help volunteer at Cleveland, but students such as Annie Colbath (12) are willing and able to help. Colbath spends her Tuesday and Thursday mornings tutoring kids at Cleveland Academy. Colbath tutors four students outside of their class. Colbath helps them improve on their letter formation, letter and word recognition, and reading.  
"They are all kindergarteners who never went to preschool and need extra help to catch up to their classmates. We read books, work with letter and word-spelling practices and do activities to improve word recognition," Colbath said.