Wade's: Putting Food on Tables since 1947
Iconic family restaurant helps define Spartanburg culture
Since 1947, Wade's Restaurant on 1000 North Pine Street has been serving hot, homemade meals to the citizens of Spartanburg. The restaurant was started by Wade and Betty Lindsey when they purchased a small grocery store on South Pine Street called Mrs. May's Grocery. The business started as a grocery store with a small lunch counter, but as workers from nearby businesses started coming in daily, Betty decided she should start serving them home-cooked meals. The small grocery store soon turned into a cinder block building, and Wade started preparing his special pork "Bar-B-Q" over hickory wood. The business continued to grow, and the restaurant was expanded to accommodate for an increased number of customers.  
Wade's Restaurant continued growing rapidly throughout the late 20th Century. In 1985, a second location was opened in the Pinewood shopping center, where it is located today. In 1989, Wade's closed the smaller original location. In 1990, the slogan "Have you had your veggies today?" was created, and in 1995 the Wade's billboard campaign was started. This campaign lasted until 2017, and featured billboards with witty puns based on vegetables and other food items served at Wade's. 
Citizens of Spartanburg have enjoyed Wade's since its start. Maddox Allen (10) enjoys eating at Wade's with his family.  
"My favorite menu item at Wade's is their Chicken Fried Steak, because the gravy is so amazing. I eat at Wade's probably once every two weeks, or whenever they have Chicken Fried Steak on the menu," Allen said.   
Wade's has a diverse Southern menu, with something for everyone. Chloe Parrott (10) is also a frequent customer at Wade's.  
"I like a lot of things on the menu, but the fried okra and yeast rolls are my favorite," Parrott said. Parrot visits Wade's about once or twice a month, and always on Sunday with her family.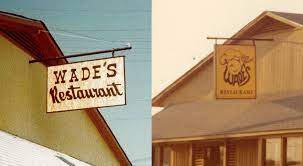 Wade's restaurant didn't become one of Spartanburg's most popular restaurants by being lazy. The official mission of Wade's is posted on the restaurant's website: "Our mission statement is to delight guests so they can't wait to come back. This isn't a mission that we attempt to accomplish on a whim! We work hard to delight our guests by consistently serving great food and fast service." 
Nathan Moseley (11) worked as a dishwasher at Wade's over the summer.  
"I think that Wade's is very important as many people go there every day, and it is an important part of Spartanburg," Moseley said.  
Additionally, Carson Baker (12) has been an employee of Wade's since May of 2021. 
"The people I work with are the best part. Wade's is an important part of our culture because it's been a staple for so long, and it is a household name. When thinking of Spartanburg, Wade's is one of the first things that comes to mind," Baker said.  
Wade's also has a special holiday menu that opens up every year around Thanksgiving. Many Spartanburg citizens eat Wade's as a holiday tradition. Wade's has been an important part of Spartanburg for over 70 years, and it will most likely continue to be an important part of Spartanburg for decades to come.