A Season to Remember
The football team puts up one of the greatest seasons in Viking history
It was a year of great success for the Vikings Varsity Football team.  After two losses to Gaffney and Mauldin to start the season, the Vikings were able to reposition themselves into winners. These minor inconveniences at the beginning of the year would not stop the team from having one of their most preeminent and exciting seasons in years. 
After their first two losses, the Vikings hosted Hillcrest for a 45-37 victory. The following week, the team played an away game against Boiling Springs for a dominating win with a final score of 52-13. Following the blow out win, the Vikings traveled down to Irmo to face nationally-ranked Dutch Fork. The team fought hard in the fourth quarter to get 13 points, but ultimately fell against the Silver Foxes, 42-13.  After this tough loss, the Vikings put themselves back together in a grand effort to defeat Byrnes, 33-30. This was a close battle that came down to the last second with Virginia Tech commit John Love (12) scoring the game winning field goal. J.D. Cash (11) has played a vital role on the offensive line this season as the starting center. 
"Winning this game against Byrnes meant a lot for the team, and I enjoyed being part of it," Cash said.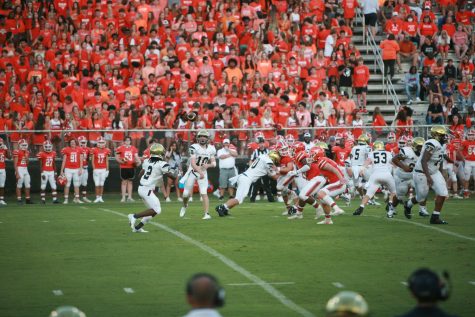 The Vikings next faced Wade Hampton for another blowout victory, 65-19. The team then traveled to Riverside to extend their winning streak with a 35-7 victory. On Friday, October 29, the Vikings hosted Dorman in a suspenseful match-up to determine the region. Going into the fourth quarter, Spartanburg was down 24-7 with 9 minutes remaining in the game. After a few minutes, the Vikings made it a one-score game when wide receiver Andrew Dantin (11) received a 62-yard reception, securing the win against the Cavaliers. 
"I was super excited to be able to win the game with it being against our rival and also it stapling us outright Region Champions," Dantin said. 
After long fought and well rewarded regular season, the Vikings performed exceptionally well in the playoffs.  They battled against Woodmont, Spring Valley and Ridge View in the first, second and third rounds, and eventually made their way to battle familiar foe Gaffney for the the South Carolina 5A Upper State Championship. Despite the cheer of the crowd and their best effort, the 2021 ended at home against the Indians, who would make their way to become the eventual S.C. 5A State Champions.