One Step at a Time
Step Team performs for change
For hundreds of years, stepping has been an art form crucial for change, justice and the fight for equality. The Step Team uses this art form to share history and unity using the body as a musical instrument to create sounds and rhythms. The team practices every Tuesday and Thursday, as well as any additional practices needed for performances. Performances are held at various school activities, such as pep rallies and lunch activities. The Step Team advisers, Stephanie Dawkins and Raven Byers, work to make the team excel in a caring, hardworking environment.
Adviser Stephanie Dawkins loves being part of the Step Team, since the team serves as a reminder of the fight for justice and equality and has roots that go as far back as 200 years.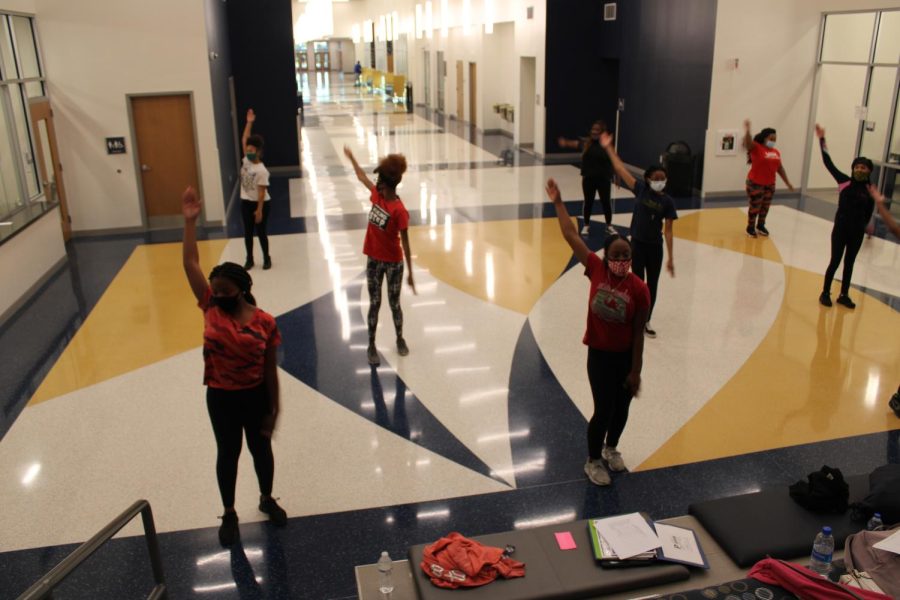 "The art of stepping is historically tied to Gumboot Dancing. During times of oppression, when talking was forbidden, workers used the only instrument available – their boots and bodies, to communicate. The Step Team is important as it serves as a reminder of our once repressive regime and our continued fight for justice and equality," said Dawkins. "The Viking Step Team is a group that promotes the 5 C's – Compassion, Confidence, Commitment, Creativity, and Charisma."
One member of the Step Team, Sydni Williams (11) loves this art form and finds dedicating time to the Step Team very admirable.
"The Step Team is one of my escapes to express not only my surroundings but my true self as well. The Step Team is important to me because it draws people to understand the background," Williams said.
The Step Team is not only considered a team, but a family where those who find a passion for history, expressing themselves and a need for change can thrive.
Lilly Boucher (11) loves the caring environment the team fosters and is proud to be on the Step Team.
"I think my favorite part of being on Step is the people. Everyone on Step has such a fun personality, and I love watching everyone help each other out with all the steps before practice. I also really enjoy doing one part of a Step routine and another person doing the other, then when you put them both together it sounds like so much fun so then everyone jumps in," Boucher said.