Leprechaun Brownies
The best St. Patrick's Day treat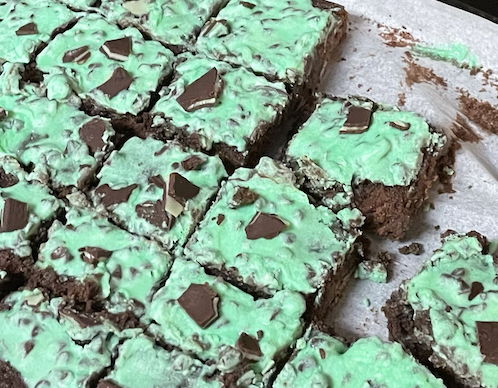 When it comes to St. Patrick's Day, enjoying a Leprechaun Brownie will make you feel as if you have found a pot of gold on the other side of a rainbow!  The delicious chocolatey flavor, Andes mints and a sweet buttercream frosting make these treats an amazing way to celebrate St. Patrick's Day.
INGREDIENTS
Cooking spray
1 box brownie mix, plus ingredients called for on box
28 Andes candies, plus more for garnish
1/2 c. butter, softened
3 c. powdered sugar
1/2 tsp. mint extract
3 tbsp. milk
6 drops green food coloring
1/2 c. mini chocolate chips
DIRECTIONS
1) Preheat oven to 350°. Line an 8″-x-8" pan with parchment paper and grease with cooking spray. Prepare brownie batter according to package instructions and pour into prepared pan. Top brownie batter with an even layer of Andes candies.
2) Bake until a toothpick inserted into middle of a brownie comes out with only a few moist crumbs, about 40 minutes. Let cool completely.
3) Meanwhile make frosting: In a large bowl using a hand mixer, beat butter until light and fluffy. Add powdered sugar, mint extract, milk and a few drops of food coloring. Beat until smooth, then fold in mini chocolate chips.
4) Spread frosting in an even, thick layer over cooled brownies. Slice into squares and top with chopped Andes candies.
(Recipe courtesy: delish.com)