Honoring Black History Month 
Celebration of African American accomplishments and culture
Created in 1926 by Carter G. Woodson, the founder of the Association for the Study of African American Life and History, Black History Month was designed to promote and educate the American people on Black history and culture. Woodson aimed to emphasize African American history by implementing it into the school-wide curriculum. The now month-long celebration began as only one week, during the second week of February. However, in the late 1960s, following the wave of social change caused by the Civil Rights Movement, Black History Month became the annual celebration of African American achievement that it is today. 
At Spartanburg High School, Woodson's influence continues to hold strong. Social studies teacher and adviser Meredith Jack and the Black History Club led the celebration with Black history trivia, line dancing and an opportunity for black-owned businesses to sell their products during lunch. 
English teacher Cherrel Jackson was excited to help lead the celebration of Black History Month. 
"Celebrating black history is refreshing, especially as an educator. During this year's celebration, students were able to learn about the rich history of African Americans in various ways: daily trivia about Spartanburg was provided, local artists came in and provided music, the display of the Divine 9 and step performance added a fun feel while paying homage to the customs and people who paved the way and allowing the kids to support black businesses all while enjoying good food and products was an awesome way to celebrate Black history," Jackson said.  
Each day, trivia questions were provided for students to answer and win prizes. Examples of the trivia questions ranged from, "What month, day and year was the Black lives mural in downtown Spartanburg created?" to "What Spartanburg High School teacher's father was the first African American coach in East Carolina University's history and is also a member of the U.S. Track & Field and Cross-Country Coaches Association Hall of Fame?"
Line dancing was also a staple of the celebration this year. USC Upstate's Greek Life joined Spartan High's very own Viking Step Team in a performance in the Viking Arena. The show was the embodiment of Viking spirit and pride and represented the celebration of Black history and culture through a medium which all groups of people worldwide hold dear – dancing.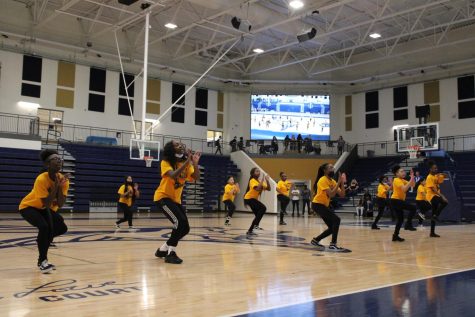 Ja'Osha Hunter (12), a member of the Viking Step Team, was thrilled at the idea of performing alongside USC Upstate's Greek Life. 
"Being able to perform with other sororities was an amazing experience. I've been stepping for four years and finally saw Delta's and AKA's [step teams] in live-action. Every sorority inspired a member of the Viking Step Team to become more creative with steps for next year," Hunter said. 
The festivities didn't stop there. Spartanburg High School opened its doors to host several Black-owned businesses. Students were allowed to visit vendors during lunch and purchase a wide variety of items. The Black-owned business vendors were a great success and exemplified the exemplary nature of African Americans in business within the Spartanburg community. Black History Month is more than just a month-long celebration, it's a year-long observation. 
During an interview on "60 Minutes" in 2005, world-renowned actor/voice actor Morgan Freeman eloquently expounds on this point. 
"I don't want a Black History Month. Black history is American history," Freeman said.