Vintage Viking Boutique
The "new to you" boutique educates and provides students with reasonably priced clothing  
After five long years of planning, the Vintage Viking Boutique, a second-hand clothing retail store run for and by students, came to fruition this year. The fully-functioning store allows students to get experience working and managing a store while also allowing anyone to donate and purchase gently used clothes.  
Sina Guffey, a Special Education teacher who manages this program, saw a disconnect between what her students were learning about business and how they performed in real-world scenarios.  
"I saw a huge gap between theoretical and practical knowledge.  My students were able to tell me how to be on a job, but when placed, they couldn't successfully apply that knowledge," Guffey said. "I worked in clothing retail and received job training in many areas of retail.  It's what I know, so it's what I wanted to pass that along to my students."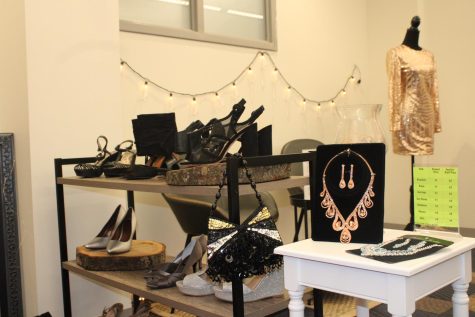 A variety of apparel is sold at the shop in room 2219, from short-sleeved shirts to warm, winter sweaters. The student-employees based the prices on local thrift stores and have been learning what it takes to run a store. For the past few weeks, the boutique has even started to feature many styles of formal dresses for the upcoming Military Ball on March 19, as well as Prom on April 23. Many dresses have already been loaned to students for the occasion. The store also has jewelry and an assortment of shoes that can be purchased as well.  
Simon Dingler (12) recently visited the boutique with some friends during Viking Hour and saw the wide variety the store has to offer.  
"I think that the Vintage Viking is a great idea, and I would definitely visit again. I also think it's a great way for students who may not be able to afford clothes to have a reliable place where they can find some," Dingler said. 
When working at Vintage Viking, one has the ability to learn and apply employment skills in a learning lab setting. Students can be creative and work together to put the store together in a different environment from a typical classroom. The group started with empty racks and shelves and gradually acquired clothing, blankets and jewelry through donations from faculty and students. Now, the retail store is ready for anyone to visit during Viking Hour. 
Kaitlyn Clary (12) has shopped at the Vintage Viking several times recently and suggests others should do the same.  
"The experience shopping there was fun. We were able to just go around and look at the clothes without being bothered and were able to just have fun," Clary said. "I would definitely shop there again. I did go there more than once and did buy a few things, and I'm happy with them."