Multigenerational Success of Batman Franchise
Gotham crime-fighting superhero has remained popular with viewers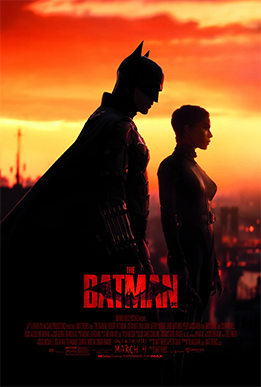 The raspy-voiced, black-suited hero from Gotham City has been an iconic character in the DC Comics world since its creation in 1939. The franchise includes a collection of 13 films, with various actors, such as Christian Bale, Ben Affleck, George Clooney and the most recent Robert Pattinson, placing their spin on the character. The creation of Batman can be attributed to Bob Kane, who was given a star on the Hollywood Walk of Fame for his part in creating the most successful box office superhero franchise, worth $3.7 billion according to fastcompany.com. 
One source of Batman's success is the relatability of Bruce Wayne's complex background. According to decanherald.com, Batman is considered one of the most human superheroes, as he relies more on intellect and physical strength rather than superpowers. Additionally, Wayne's superhero origin story began with witnessing the murder of his parents and a following fear of bats, producing both sympathy and inspiration within the viewer as Wayne turns his trauma into a need to bring justice.  
Knox Eaton (9) is a fan of the DC Comics Universe and has seen The Batman, which has just been released to theatres.
"I think The Batman has taken some of the viewership away from the DC Universe, and I think regular people can relate to Batman because instead of being a superhero with unique powers he's a normal person with a cool suit and other things," Eaton said.
Each director and leading actor that has taken part in Batman films have created distinct interpretations of the story and character. According to theculturetrip.com, director Tim Burton's 1989 version is known for its gothic qualities, balancing out actor Michael Keaton, who was known for more comedic roles before his part in Batman. The less popular Joel Schumacher was known for bringing humor and brightly colored lighting to the traditional story, taking a different approach. Christopher Nolan is credited for The Dark Knight trilogy starring Christian Bale, notably the most popular in the franchise, according to cbr.com. 
 The most recent addition, The Batman, starring Robert Pattinson, was released on March 4. Director Matt Reeves aims to produce a more sinister Batman than previously seen. According to theatlantic.com, the story centers upon a serial-murder case in Gotham perpetrated by a new villain, the Riddler. Zoë Kravitz plays Catwoman, who acts as Batman's sidekick in solving the mystery of the killings.  
Kirsi McEnroe (12) saw The Batman in theatres the first weekend of its release.
"I thought Robert Pattinson played the role well and the new version was much darker and dramatic than other Batman movies," McEnroe said. "Overall I thought the plot was well thought out…I never knew what was happening next."
 According to nytimes.com, Warner Bros. approached Reeves in 2016 with the intent of creating a new addition to the franchise. Reeves brought a new take, seeking to reinvent Batman by adding a more emotional aspect. Ben Affleck originally held the role but chose to leave the project. Pattinson was then chosen due to his vulnerable past performances in films such as Good Time and The Lighthouse. The Batman took five years to complete, including a postponed release date due to COVID-19 restrictions.  
Reeves discussed his desire to create a new version of Batman in an interview with the New York Times. 
"I wanted to fight against any sense that Batman would remain static," Reeves said. "I wanted the stakes of the story to challenge him in a way that shook him to his core. He has to change."  
 The Batman will act as a starting point for DC Comics' expansion of the franchise. According to complex.com, HBO Max will host two spinoff series, the animated Batgirl and Static Shock and The Peacemaker, starring John Cena. It has also been hinted that, pending success, The Batman is set to become a trilogy.