Fundraiser Gone Wild
Charleston's Southeastern Wildlife Exposition attracts thousands
The Southeastern Wildlife Exposition, better known as SEWE, has brought collectors, sportsmen and artists to the Charleston area since its founding in 1983. The not-for-profit event occurs annually during Presidents Day weekend, from Feb. 17 to Feb. 19. The Exposition consists of art galleries and auctions as well as demos of cooking, dog training and sporting events like fly fishing. SEWE is dispersed throughout the Charleston area, centering around both Marion Square and Brittlebank Park, with surrounding hotels and large white tents hosting scheduled events.   
In a statement from postandcourier.com, SEWE Executive Director John Powell discussed changes to the event after its cancellation last year due to COVID-19.  
"I think this year feels different from those past because we're celebrating much more than just wildlife art and the city of Charleston," Powell said. "We are also celebrating our optimism, our reunion and one another, as well as 40 years of SEWE." 
Throughout Presidents' Day weekend, Downtown Charleston becomes a hub of SEWE activity. Marion Square, Brittlebank Park and surrounding areas are closed off to non-attendees and lined with white tents hosting various shops, ranging from oyster bars and smoked meats to popular hunting and fishing equipment brands. Surrounding hotels contribute to the event by hosting art galleries and auctions.  
Educational opportunities can be found through outdoor demonstrations. Attendees are given a schedule of events upon entry in order to gather around demonstrations early to achieve a good view. Birds of prey flight demonstrations showcase a variety of raptors like hawks and owls, teaching viewers about their role in the ecosystem. Another event includes professional dog trainers, using a British Labrador pack to show training methods and nutrition plans.  
SEWE is known as a family event and pets brought to the Exposition can participate as well. Dogs of all kinds and skill levels compete in water jumping competitions. A large platform stage with an attached pool found in Brittlebank Park is the stage for the competition. Dogs must be pre-registered to participate for the possibility of being chosen for a final held on the last day of the Exposition.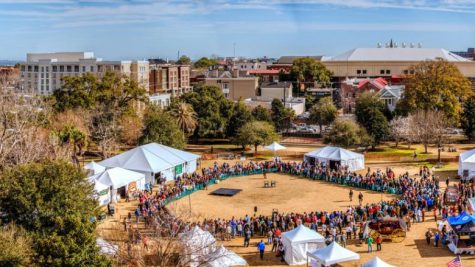 Elizabeth Skinner (12) attended SEWE this year. 
"I enjoyed all of the activity. I walked around the parks and visited an art gallery in a nearby hotel," Skinner said. 
In addition to SEWE's display of the arts, the mission behind the Exposition is to raise money and conservation awareness for the local area. According to sewe.com, an estimated $50 million is generated each year. The event supports local and statewide economies through increased tourism, as it attracts 40,000 attendees according to sewe.com. Conservation awareness is increased as the companies renting booths at the event showcase the art and sporting opportunities within local wildlife.  
Anna Wallace Cheek looks forward to attending SEWE each year. 
"SEWE is a great tool for spreading awareness of wildlife conservation efforts. The birds of prey flight demos, live animal shows, and conservation tents all help to educate people on local wildlife such as redtail hawks and sea turtles in a fun way," Cheek said.