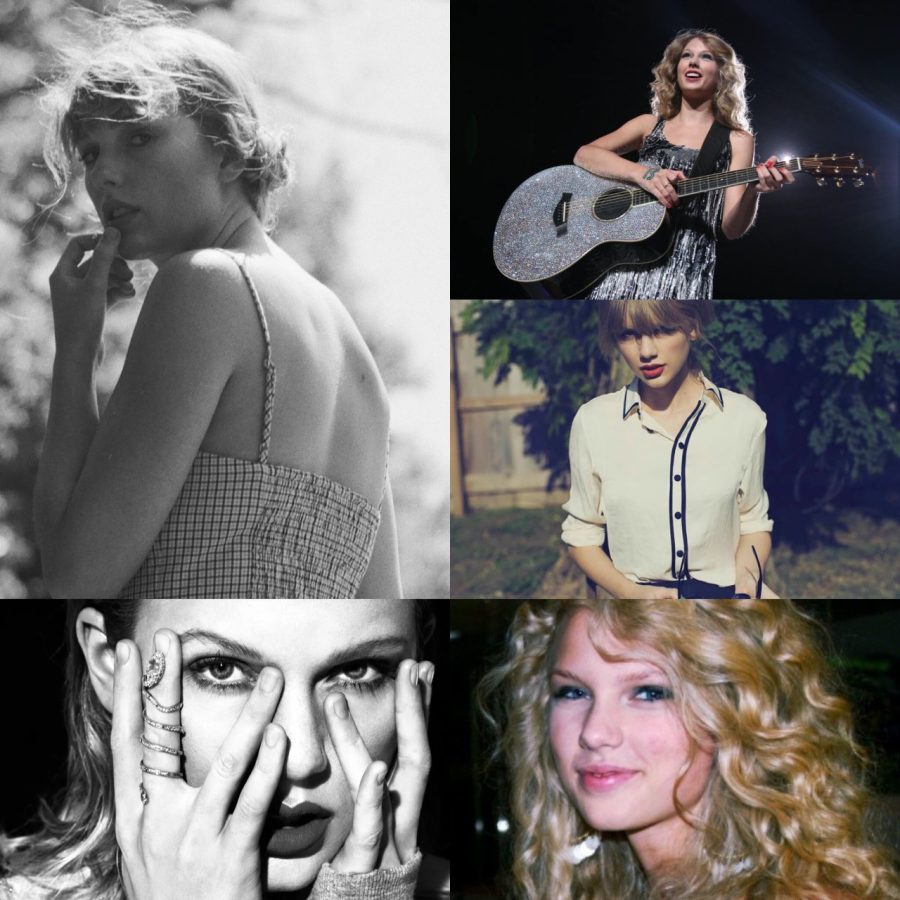 The Evolution of Taylor Swift's Music
"
I love Folklore because I love her in a new indie genre, and she's very good at story telling throughout it"
— Cate Seegars
Generation Z has grown up listening to Taylor Swift. As the pop star has matured in her music and left her country image behind, today's youth has continued listening to her tunes, eager to hear her next track.  
Musicians such as The Dixie Chicks and Shania Twain influenced Swift in her early writing, according to britannica.com. She released the song "Tim McGraw" on her debut album and immediately gained a following, allowing her to open for the well-known Rascal Flatts. At this point, Swift's music was definitively classified as country, and her image matched this theme, as she performed in cowboy boots and loose, curly hair.  
Chris Jungkind (12) is a big fan of Swift's older music and enjoys listening to it even years after it has been released. 
"My favorite old Taylor Swift song is definitely "You Belong with Me" because it's a certified banger," Jungkind said.  
Soon followed her albums Fearless and Speak Now. These collections retained a country style and are listed as country in iTunes, but they adapted a pop element. While her first album focused on young love and heartbreak, Fearless emphasized being an outcast and rebel. Speak Now featured breakups, apologizing after relationship quarrels and reflections on growing up.  
Swift next launched albums Red and 1989. These two albums officially established Swift as a pop artist. Both albums, like most of her music, focused on her relationships and how she dealt with heartbreak. Songs from 1989 such as "Blank Space" and "Shake it Off" added a certain rebellious attitude to her style.  
Swift completely changed her image with the release of Reputation. She separated herself from the innocent country music star so many people identified her as. Her defiant attitude and desire to break away from an image established her as a powerful feminist figure as she addressed celebrity drama and cancel culture. 
"I realized I needed to restructure my life because it felt completely out of control," Swift said in an interview with Vogue magazine. "There will be no further explanation. There will just be reputation." 
She later released Lover, which was less dark than the former album with a more upbeat tone.  
Most recently, Swift published Folklore, an album unlike any of her others. It features Bon Iver, an indie artist, in the ballad-like track "Exile."  The record is somber and mature in reflecting on love, and it tells a tragic story about two lovers.   
Cate Seegars (12) enjoys Red more than any other album for its lyrics. However, she finds Folklore to be an interesting addition to Swift's discography.  
"I love Folklore because I love her in a new indie genre, and she's very good at story telling throughout it," Seegars said.  
Though Swift has changed her style over the years, the youth of America will continue to replay her old music and keep an open mind for her latest releases.