Is it Ethical to CGI Dead Actors?
The digital necromancy of the 21st century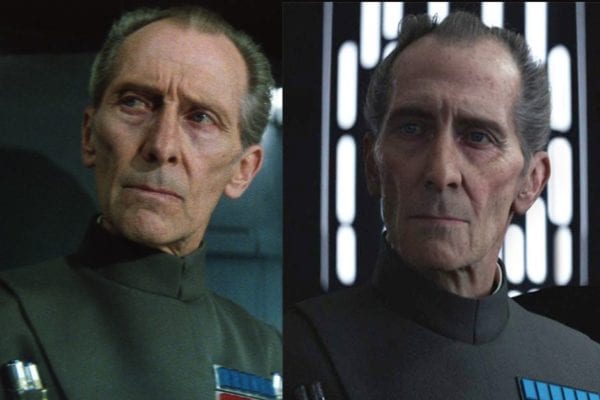 "Rogue One," "Fast and Furious 7," "The Hunger Games: Mockingjay," and "Star Wars: The Force Awakens" are all films that feature deceased actors that have been revived through computer-generated imagery, or CGI. CGI is generally used to make impressive backdrops and fictional characters, but filmmakers have started to use it to bring back actors from the grave for blockbuster movies. Companies have made iconic commercials using dead actors or deceased famous individuals. CGI could help make movies more entertaining, but it might not be ethical to use this type of "digital resurrection."
To fully understand the situation, there has to be a basic understanding of CGI. Entertainment companies use CGI to create characters, special effects and virtual reality to use in movies, video games and commercials. The first animation was called "Vertigo," and it was a 3D hand graphic produced by Edwin Catmull and Fred Parke in 1958.
Peter Cushing played Grand Moff Tarkin in "Star Wars: A New Hope." At the time of its release in 1977, it was an industry-changing movie. In 1994, at the age of 81, Cushing passed away, but in 2016 he reappeared in "Star Wars: Rogue One" through the use of CGI.
Thomas Van Vleet (12), a member of the Viking Video team is impartial to movies using CGI.
"I feel like CGI bringing back dead actors to life is a good way to circumnavigate untimely deaths, but the movie makers need to figure out a way to kill off said actor so that the producers can worry about one less thing," Van Vleet said.
One example of how CGI can save movies was while filming "Fast and Furious 7," Paul Walker had an untimely death in a car crash. The story had to be heavily rewritten, and the filmmakers used CGI on Walker's brother to make him look like Walker so they could complete the film.
Stuart Phillips (10) thinks that using CGI is acceptable.
"I thought it was crazy how CGI was used on Paul Walker because you could clearly tell that it was CGI by his voice. But if it's a series where an actor dies in the making of the series, I think it's fine if the producers use CGI," Phillips said.
In both of these instances, the producers received permission from the families to use the dead actor in their movies. In certain situations, one must question whether it is ethical or not to ask the family of a passed love one.
Jennifer Waddle (10) believes that there is a fine line to walk in the family's feelings regarding CGI when it is important or necessary to a movie.
"I think it's good for the plot of the story, but I can see how people could find it disrespectful. But if you're in the movie industry, I can see how it would help," Waddle said.