Upstate Munchies: October Issue
A slice of pizza that's out of this world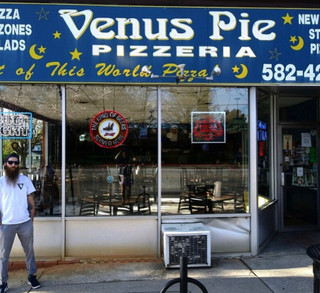 This year Burg's Kitchen will be switching names to Upstate Munchies. The call for this name change occurred when we decided to expand the variety of restaurants we visit to the entirety of Upstate South Carolina, rather than specifically focusing on Spartanburg dining options. We will continue visiting iconic restaurants and rating the most commonly ordered item on the menus.
In this edition, we visited one of the most well-known pizzeria in Spartanburg, Venus Pie. Lars ordered the large Hot and Now for 16 dollars. The pizza came with jalapeno peppers, banana peppers, bell peppers, beef, bacon, and extra cheese. The combination of the salty bacon and juicy beef with the bite of the peppers created a world of flavors in my mouth. After his first bite, Lars realized why the restaurant was so highly rated in the town.
Dev had the large Gatherer which is the vegetarian option offered on the menu at Venus Pie. His meal was also a total of 16 dollars. The pizza consisted of spinach, onions, mushrooms, artichokes, and banana peppers. The spice of the banana peppers blended well with the mushrooms and spinach making the pizza earn a high ranking on Dev's top pizza list. The crispy crust of the brick oven pizza created a crunch and exquisite texture.
Dev's Opinion 
Presentation: 4.3/5 
Taste: 4/5 
Lars' Opinion 
Presentation: 4.4
Taste: 4/5 
Final Thoughts 
We waited around 20-30 minutes for the pizza, but it was well worth the wait. The environment of the restaurant was a 4/5; the atmosphere was complementary, as the décor gave off an unpretentious feel while still delivering complementary pizza and Italian foods. Venus Pie has earned a spot on our "returning" list with an overall rating of 4.6/5