It's the Holidays Charlie Brown
How traditional Charlie Brown movies make the holidays so special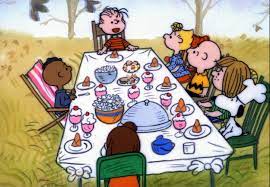 "A Charlie Brown Christmas" and "A Charlie Brown Thanksgiving" are two holiday classics that everyone remembers and loves. They can bring family together and create wonderful, wholesome memories. These movies told the truth on how children understood and related to the film, making younger viewers intrigued in watching the short films.
Coleman Hogan (11) remembers how watching the Charlie Brown holiday movies created joy throughout his life.
"Charlie Brown movies were so impactful to me because I used to watch them at my grandma's house during Christmas time, which were really good memories," Hogan said.
"A Charlie Brown Thanksgiving" truly honors the real spirit of the holiday. In the film, Peppermint Patty unexpectedly invites herself, Marcie and Franklin over to Charlie Brown's Thanksgiving dinner. Charlie Brown was rushed to decide on what to do, knowing that he couldn't cook at all and was planning on going to his grandma's. Instead of disappointing his friends, Charlie Brown gets Snoopy and Linus to prepare buttered toast for an early dinner before leaving to go to his grandma's. Peppermint Patty gets mad about the substandard Thanksgiving meal she had hoped for, and hurts Charlie Brown's feelings. Marcie then explains to everyone the real meaning of the day. She talks about how they should just be thankful for being together, which is a special part about the holiday.
Sky Shrieves (12) enjoys spending time with her family and friends by watching "A Charlie Brown Thanksgiving."
"The reason I like "A Charlie Brown Thanksgiving" is because I like the plot twist," Shrieves said.
Another holiday traditional favorite from the Peanut Galleries is "A Charlie Brown Christmas." Charlie Brown saw beauty in a Christmas tree that he chose that was the most unpopular tree that nobody liked or wanted. He showed everyone that just a little care and a little love can change everyone's perspective. Through something so small, he brought his friends together and by the end of the film, they all understood what Christmas was all about. Linus explains to everyone how Christmas is about peace on Earth and good will toward men.
Anne Caroline Greer (10) loves getting into the Christmas spirit and one of the best ways for her is by watching "A Charlie Brown Christmas."
"I like 'A Charlie Brown Christmas' because it makes me feel excited that Christmas is coming," Greer said.
Overall, both short films show many lessons that can be helpful to wide ranges of people. Charlie Brown often lost or failed, but never gave up, and he kept trying even though he had many obstacles in his way. Winning through persistence is a great lesson for what Charlie Brown represents. Something else important to take away from these films is how important it is to have friends that care. The Peanut gang was made up of individual characters, each with their own talents, but through it all they were always there for each other.
Finally, another lesson one could learn is how big dreams lead to big things. Snoopy was the biggest dreamer of them all, but his wild imagination often led to even wilder, more fantastic adventures in real life. He knew that one must have a big dream to lead a big life.