Running Towards a Change
Members of the House of Representatives plan a 5K fundraiser in support of the Spartanburg Regional Cardiology Center
In light of the season of love, the Spartanburg High School House of Representatives were tasked with brainstorming ideas for ways they could help the community. The idea of a "Heart Healthy 5K" was presented by Dorothy Salley (11), Abigail Graham (12) and Rookhie Sullivan (12) as a fun and productive way to raise money for Spartanburg Regional's Cardiology Center. The fundraiser was held on Feb. 25 and ended up having of over 50 runners and spectators in attendance.
Since Sullivan and Salley are members of the cross-country program themselves, they instantly thought that a 5K could be the perfect way to raise profits for a greater cause.
"As a runner, it was really cool seeing other people enjoy something that I love so much," Sullivan said. "We had a great time putting it all together, and I am super proud of the hard work that we put in the days leading up to the race."
The 5K followed the school's cross-country course – starting on the track, looping down through the woods and heading back towards the track before doing it all a second time. The course ended on the track with finishers heading onto the grassy infield for a final sprint towards the end of the straightaway. Once finishers finally crossed the finish line, they were presented with the option to buy treats such as coffee and donuts to warm themselves up from the cold weather, and top finishers were given a prize. Despite the chilly and rainy conditions, the event raised around $500 to support the Cardiology Center.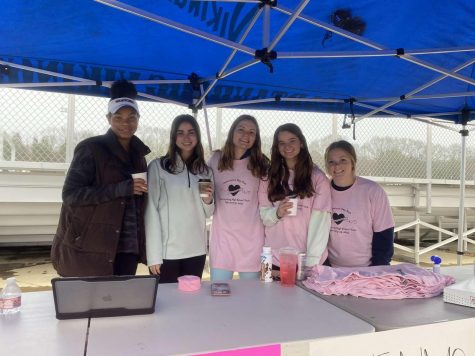 Salley thought that the event was a success and was very happy to be able to raise money for such an important organization.
"The topic is close to my heart because my grandfather died of a heart disease, and I thought that a 5K would be a great way to raise money and would be a fun time. I look forward to next year and plan on using what I know now to make it even better," Salley said.
The event was even supported by nearby businesses with a sponsorship from Little River Roasting Company and with help from Krispy Kreme. Whether in the form of the purchase of donuts, hot coffee, race entry or even simply donating, the event boasted numerous different ways to support the cause.
Laney Brothers (11) was a participant of the race, along with her fellow classmates and close friends running alongside her.
"I thought that the 5K brought me even closer to my friends, and I loved running in it," Brothers said.