Upstate Munchies: March Issue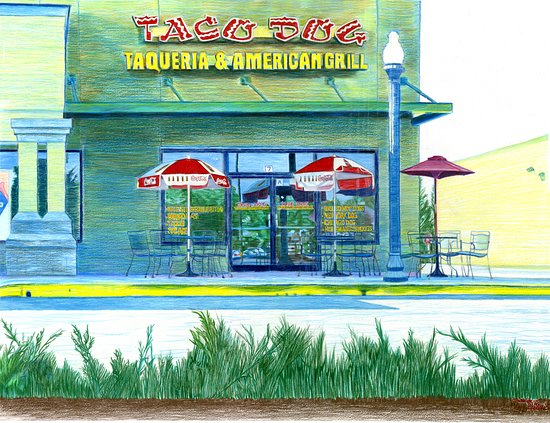 Upstate Munchies is a local food review produced by Dev Patel (12) and Lars Harris (12). Every restaurant we visit will be evaluated on the following criteria: presentation, taste and the likeliness of returning. In the March issue, we visited Taco Dog Taqueria & American Grill on a Tuesday night at around 8 p.m.  We were able to get a table within five minutes and were served our food quickly. The restaurant was small, but boasted a real Tex-Mex feel with all of the decor and vibrant colors.
Environment: 8/10
Appetizers
For an appetizer, we decided on a bowl of Cheese Dip to go along with the tortilla chips.
Cheese Dip and Chips Price: $2.45
Dev's & Lars' Opinions
Taste 4.3/5
Entrées
For the entrée, Lars had the Cheeseburger with Chipotle Ranch and Fries. The burger was one of the juiciest, most flavorful burgers in Spartanburg. The addition with their special Chipotle Ranch only added to the blissful experience. The fries were nearly perfect, the crispiness and saltiness were elite. Dev had the Veggie Quesadilla, which consisted of cheese and a choice of three toppings, salsa and sour cream on the side. Dev chose grilled peppers and guacamole. The crispy shell of the quesadilla combined with the mild and sweet taste of the peppers and guacamole gave this easily a top spot on Dev's veggie quesadilla scale.
Cheeseburger: $9.35
Veggie quesadilla: $8.85
Lars' Opinion
Presentation: 4.1/5
Taste: 4.7/5
Dev's Opinion
Presentation: 3.6/5
Taste: 4.6/5
Final Thoughts
We both decided to place Taco Dog Taqueria & American Grill on our list of "definitely returning" to the establishment because it gave us an overall solid experience. In conclusion, we think Taco Dog Taqueria & American Grill is a respectable establishment and is a reasonable price ($). Overall, on our Dev & Lars scale, Taco Dog Taqueria & American Grill receives a 4.6 out of 5.