The Dyar Era
A fresh new face to lead Viking baseball
As spring quickly approaches a new face emerges in the coaching scene for Vikings baseball. The name Jesse Dyar should ring a bell for most high school baseball enthusiasts in the area. Dyar previously coached at Union County, Gaffney and Dorman over the past eight years, leading both Union and Dorman to Region titles.  Even in his short time at Spartanburg High, his leadership has already brought a new perspective and energy to the team.
Dyar comes to Spartanburg after his time coaching at Point University in Georgia for 10 years. In 2006, he was an assistant coach then promptly promoted to head coach the next year. Dyar led the team to a NCAA-DII Championship. His family moved to Spartanburg nine years ago. Even though he is not a Spartanburg native, his wife attended Spartanburg High School, which made the transition seamless.
"I would say that Spartanburg High School has always been on the radar, and midway through last year, I was blessed with the opportunity to coach here. It's home for our family and means a lot to us," Dyar said.
In the short amount of time Dyar has been in the area, he was named 2016 Region Coach of the Year while at Dorman. His main focus on any baseball program he leads is to always build a family environment. He does this by putting his players in a positive environment daily that helps them truly grow on and off the field.
"Trust, effort, positive attitude and love.  These are what I would say are our main core values," Dyar said.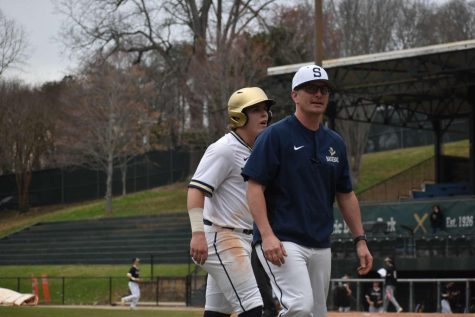 Many players have found improvement in the baseball program and are already satisfied with the change in coaching. Emory Butehorn (12) plays pitcher for the Varsity team and enjoys having Dyar around.
"He has made the transition easy on us, and I look forward to playing under his leadership this season," Butehorn said.
In addition to his coaching duties, Dyar is also a business teacher at Spartanburg High School. He has a passion for education and enjoys helping his students succeed in the classroom as well on the field. Overall, Dyar is a great addition to the Viking family. His energy, enthusiasm and dedication to developing players make him an asset to the team, and his leadership is sure to lead to continued success in the years to come.
Zion Littlejohn(11)  has been a member of the Viking baseball program since middle school and views the change as something positive.
"Change is always scary, but it can bring a new perspective to the team and bring out beneficial characteristics you may have never been with another coach," Littlejohn said.