A Smoothie Filled Summer
Smoothie chains offer ways for students to cool off in a healthy manner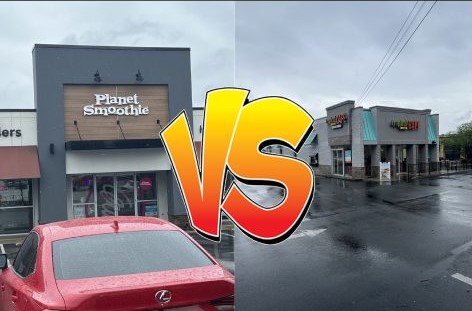 Will Eaton, Co-Editor in Chief/News Editor
April 20, 2023
As summer approaches, students often find themselves searching for a cool treat that will mitigate the sun's dreadful heat. While ice cream and shaved ice vendors are often the go-to for students, these sweet treats tend to be overflowing with sugar. The search for a healthy alternative should be quick and painless, as the presence of Planet Smoothie and Tropical Smoothie Café. Both have locations within five minutes of Spartanburg High School which makes it easy for students to locate on a hot and humid afternoon.
Planet Smoothie offers guests healthy smoothies that are appropriate for any time of the day. Whether it's a breakfast smoothie bowl to start off the day or a post-workout protein smoothie, they offer a variety of smoothies for all different occasions. Their menu has a list of "Planet Favorite" smoothies that are typically the most popular, including the berry-filled Shag-A-Delic and the peanut-buttery Mountain Man Crunch. Planet Smoothie offers a variety of treats under 300 calories, as well as smoothies that can be filled with caffeine, superfoods, proteins, or function as meal replacements. There are a total of 38 add-ins and blasts that can be put right into one's smoothie, which allows for a level of customization that could appeal to anyone, no matter what their taste in smoothies may be. The variety offered at Planet Smoothie sets it apart from many other smoothie chains.
Jennifer Koval (12) worked at Planet Smoothie for a portion of the year. She enjoyed working in an environment that was positive, such as the one she experienced at Planet Smoothie.
"I loved meeting new people and having the chance to put a smile on people's faces," Koval said.
Tropical Smoothie Café on the other hand tends to put their focus on a wider scale of products, including smoothies, flat-breads, sandwiches, wraps, bowls, and breakfast items. While not as smoothie focused as Planet Smoothie is, Tropical Smoothie Café still has some healthy options. The Avocolada features avocado and pineapple, and the Lean Machine includes energizer that will boost the process of fat-burning. Tropical Smoothie Café offers veggie-filled smoothies, fruit blends, and a little mix of both. The food is also heart-healthy, as they are jam packed with chicken, vegetables, turkey and other food items that can be used in a breakfast sandwich or a dinnertime treat.
Nevaeh Wynn (12) is a recurring customer to Tropical Smoothie Café. She enjoys the variety that the restaurant gives with their menu.
"My favorite thing to order is the Blimey Limey Smoothie and a cheese quesadilla," Wynn said. "I like that their smoothies always have a super fresh taste and they have many different food options for vegetarians."
While Tropical Smoothie Café has more options than Planet Smoothie in terms of food and snacks, Planet Smoothie adjusts for this discrepancy in the vastness of their drink menu. Planet Smoothie has a total of 45 different smoothies, while Tropical Smoothie Café has 26 on their menu.
All in all, both Planet Smoothie and Tropical Smoothie Café offer healthy alternatives to the sugary treats people usually associate with the summer's hot and mucky weather. Smoothies provide a blast of flavor that students won't have to question what all may be in the treat their consuming. Spartanburg has two smoothie bars close to the central area of the city. After a game of Spikeball or a long run, Planet Smoothie and Tropical Smoothie Café open their doors to those in need of a quick refresher.
Andrew Kongkeo (12) plans to go get smoothies often from both locations during the summer.
"Both Planet Smoothie and Tropical Smoothie Café have really good smoothies, and I'm looking forward going there often to cool off from the summer heat," Kongkeo said.