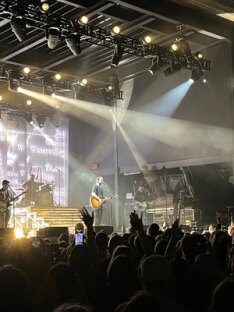 All it takes these days to make some noise as a musician is a few viral songs on YouTube or TikTok. Alternative country/indie singer Noah Kahan has proven that people will hear the music if they are given the chance to listen to it. 
Noah Kahan was born in the small town of Strafford, Vermont, on New Year's Day of 1997. Many of Kahan's songs, like "Northern Attitude" and "Maine," focus on his experiences living in New England. During the COVID-19 pandemic, Kahan moved back into his parents' house in Vermont, where he wrote his EP album that was released in May of 2020 titled "Cape Elizabeth." During this time, Kahan also wrote his first hit album "Stick Season." 
Anna Grace Babbis (11) first listened to Kahan when "Stick Season" was released, and she has been a fan ever since. 
"I like Noah Kahan because of the way he is able to connect with his listeners through his lyrics. I tried to get tickets to one of his shows, but the website crashed because so many other people were also trying to get tickets," Babbis said. 
After teasing the headline single "Stick Season" on TikTok for over two years, Kahan finally released the song in July of 2022. The entire "Stick Season" album was then released in October of 2022, and sold 17,000 units in the first week, securing the number 14 spot on Billboard 200. Kahan then performed throughout America on three legs of his Stick Season tour in 2022 and 2023. 
Vince Skias (11) was able to attend one of Kahan's shows in Asheville in the summer of 2023. 
"My sister loves to listen to Noah Kahan, and she convinced my parents to take our family to one of his concerts. The show was very lively, and there were a lot of young adults there," Skias said. 
One of Kahan's biggest focus points in his songs is mental health. He has opened up about his struggles with anxiety and depression throughout his life, and how music has helped him improve his mental health. 
"When I started releasing music and seeing it connect with others, I realized it wasn't something I had to be ashamed of and that people were actually connecting to my music," Kahan said in an interview. "What's great is music gives me an outlet to express it and it helps other people." 
Because of his previous mental health issues, Kahan began a fund called the "Busyhead Project," named after one of his songs. On Oct. 10, which is worldwide mental health day, Kahan announced that the fund had raised $1.9 million to shine light on mental health issues. Kahan also wrote an essay for "TIME" magazine about his mental health struggles, which was published on World Mental Health Day.  
Amanda Phasouk (12) finds that listening to Noah Kahan helps her calm down and reflect while she is driving.  
"I started listening to Noah Kahan at the beginning of this year. His song 'She Calls me Back' always brings joy to my car rides, and his music carries a summer vibe that I love," Phasouk said.