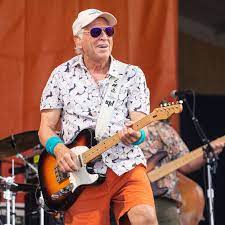 On Sept. 1, 2023, the world lost musical legend Jimmy Buffett, who was surrounded at the time by family and friends. The unfortunate cause of Buffett's death was his long-fought battle with skin cancer, known as Merkel Cell Carcinoma.  Buffett's death left a sense of sadness among people across the world and despite his untimely passing, fans hope to keep his outstanding music traditions alive as a way to honor his life.
Buffett's funeral was held at Kennebunk Funeral home in Maine on September 9, shortly after his passing. Fans gathered at the Margaritaville Resort in Key West, and left memorabilia and other personal items that symbolized Buffett and his casual, beach-inspired lifestyle.
His music has inspired millions not just in the US, but across the world. Former member of Buffett's Coral Reefer Band, Greg Taylor, was devastated by his friend's passing.
"I knew Jimmy was going to be a star one day since the first time I saw him," Taylor said.  Buffett's wife Jane Slagsvol posted a heartfelt message after his passing on the official Jimmy Buffett Instagram page where she thanked everyone who had been there for him, cared for him, and helped him along the way of becoming one of the world's best musicians and rockstars.
Meg Mayley (10) says she's familiar with some of Buffett's music, and her parents were also fans of Buffett.
"I know some of his hit songs like 'Margaritaville,' but my parents definitely know more about him than I do," Mayley said.
Throughout the life of Buffett, hit songs like "It's Five O'clock Somewhere" and "Margaritaville" have given Buffett the fame that most people know and love. Throughout his career, Buffett racked up over $570 million from just one of his hit songs – "Margaritaville" – and had a total staggering net worth of over $1 billion.
Jack Usry (9) thinks Buffett inspired many with his music over the years.
"Jimmy Buffett made a lot of songs that I've heard in movies before and made a lot of other music that's heard in a lot of places too," Usry said.
A surprise to many fans and extreme fans, known as "Parrot Heads" across the world, is that after his passing there was the news that there would be a virtual tour called the "Cabin Fever Virtual Tour" which would be streamed on Margaritaville TV.  The virtual tour was unlike others with its sentimental and special remembrance video played after the show this past September. The show was an amazement to many, because it featured a holographic Jimmy Buffett, as if he were there performing for his fans.
Johnny Rubio (11) listens to some of Jimmy Buffett's music and says he lived a great life in Key West before passing.
"Listening to some of Buffett's music made me think about how much hard work and dedication it took to get all his money and to get to where his status was when he died.  I know many were hurt by his passing," Rubio said.
As Jimmy Buffett left the public with broken hearts, his traditions, lifestyle and music will always remain in the memories of fans, friends and family. Moments before his death, his wife Jane said that Buffett's final words were telling her to "have fun," which she cherished. She claimed those words made her feel a little less sad and broken once he finally passed. Millions across the world including Buffett's friends, family, fans and even other musicians he worked with dreaded to finally say goodbye to the amazing and loved songwriter.  His fans can only hope that as Buffet moves into the great beyond, he's finally found his beloved "lost shaker of salt."