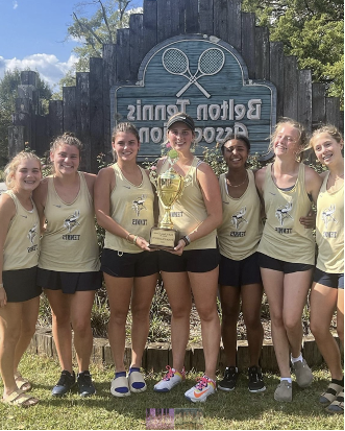 The varsity girls started the year off strong by winning the 2023 Sparkle City Invitational Championship. They kept that winning streak up, and won against Dorman 6-0 on Tuesday, Oct. 3, claiming the 2023 Region Championship. The varsity team lost their last regular season match against Christ Church on Monday, Oct. 16, before starting state playoffs on October 19. However, the team advanced in the first round of playoffs with a 6-0 win over Hillcrest and will move to the second round on Tuesday, Oct. 24, at home.
Sophie Clayton (12) is on the varsity tennis team and is committed to playing tennis at Clemson University next year. 
 "It's been a really great learning experience for me, and I love all the connections that I have made with my teammates throughout the year," Clayton said. 
 The team wouldn't have been able to have so many wins without the team's relationship being so strong. The girls look forward to practices and matches just so they can have fun with their teammates while also striving to be the best in the state. The coaches implement to the girl's that their sportsmanship and good relationships with teammates will create a strong winning team. 
 Anna Beeson (12) has been playing on the team since seventh grade when they won state. 
 "I have greatly enjoyed my time on the team, and I have realized it is more than just a sport. It is a place where I have built long lasting relationships and learned many skills and experiences that I will carry with me throughout my life. We have always had a great record, and I think that is partly because of how great our team dynamic is. I look forward to hopefully getting far in the playoffs this year and closing out my last year with a win," Beeson said. 
On the same day of the Homecoming dance, the varsity team made the journey to Belton, SC, to dominate and then came back just in time for the dance. The team worked their way from a third-place tie on Saturday to becoming champions of the Belton Classic on Sunday. Since that win, the Lady Vikes are more enthusiastic than ever to win playoffs.   
 Mary English Hammett (10) plays for varsity and played the tournament and went to the Homecoming dance all in one day. 
 "Our team has done extremely well this season! We won the Belton Classic and are on the road to playoffs. I believe that we have the ability to go to the state championship and win," Hammett said. 
In addition to the Vikings tennis team, girls tennis across the world is becoming more relevant. Coco Gauff, a 19-year-old from Atlanta, won the U.S. Open women's title. She has been an inspiration to many young female tennis players across the world since she became the youngest woman to win the U.S. Open since Serena Williams in 1999.