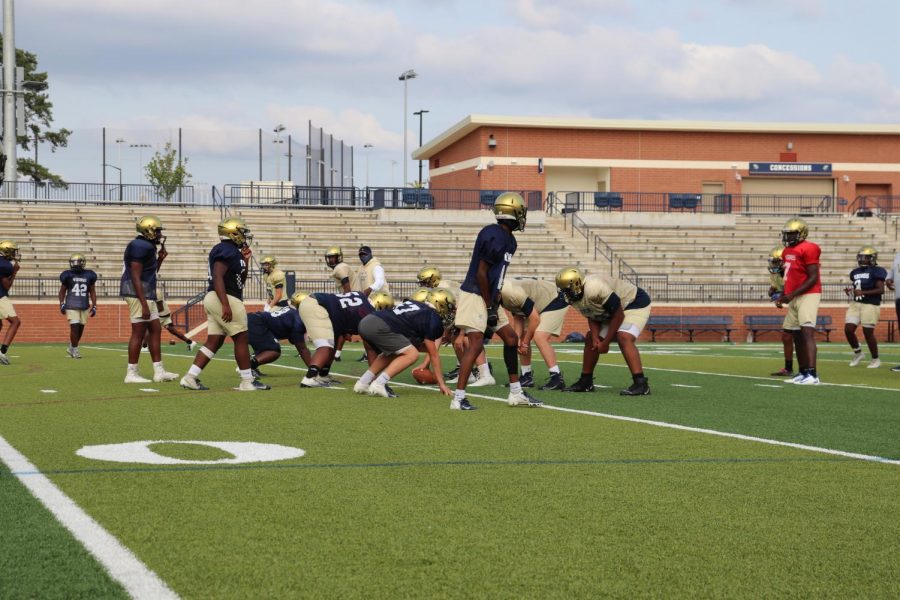 The Return of Football
Football returns, bringing much excitement, but even more questions.
In March of 2020, many collegiate and high school spring sports were canceled due to the spread of COVID-19. This action made many devoted football fans question what would happen in the fall with their favorite sport. As it turns out, there will be a football season for high school and college. Sort of.
The return of District 7 schools brought with it the start of football practices. Although not like practices of previous years, the return of these practices gave hope to many who thought the football season was down the drain. When it does come to game time, many rules and regulations have been placed for the safety of the fans, players and coaches.
In keeping with necessary guidelines and protocol, Athletic Director Todd Staley has made plans that will limit the number of people in the football stands.
"For SHS, we are saying 1000 people on the home side of the stadium and 500 people on the visitor's side," Staley said.
Limiting the amount of people will reduce the chances of spreading COVID-19. Staley also said that there will be social distancing in place, along with other regulations.
College football is also returning, but it will look much different than a normal season. One of the biggest changes is that teams are starting to play at different times. Originally, the Big Ten, Pac 12, MAC and Mountain West were not going to play, but in a recent vote by its leaders, the decision was finally made to return to the field. This brings relief for fans of the Big Ten, including Payson Valinski (9). Valinski cheers for the Wisconsin Badgers of the Big Ten and is excited to see them play this year.
"Nine games isn't a lot, but it is still football, and I like the decision," Valinski said.
Some conferences were ready to play in spite of the pandemic, including the SEC, ACC and Big 12. These conferences, along with other smaller ones, decided to play with an altered schedule. Anne Hamilton Karn (9) is a Clemson Tigers fan.
"My whole family is very excited that they are starting back up, because we love to tailgate even if we are not at the actual games," Karn said.
After waiting for so long, high school and college football has returned, and fans everywhere can rejoice. While there are many guidelines in place in order for it to work, people are still ready to watch their favorite teams back on the gridiron.