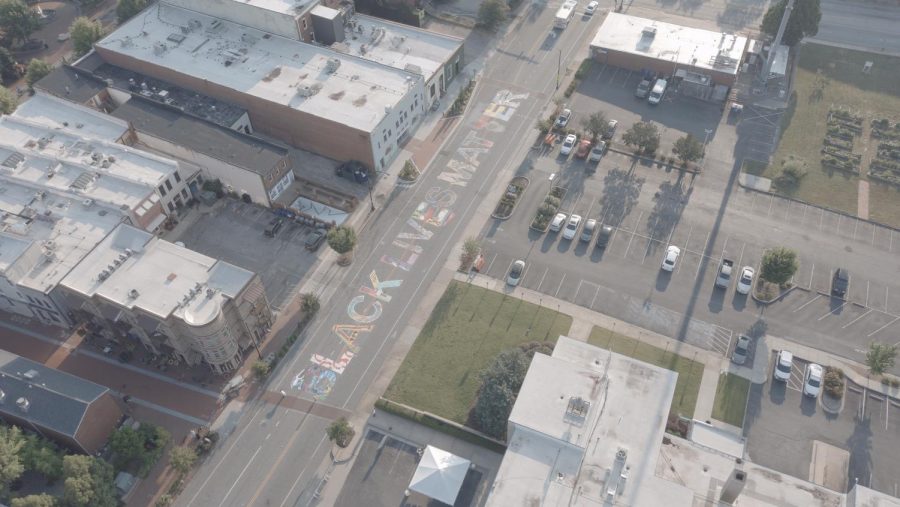 Photo Courtesy of Christopher George
Global Movement Calls for Social Change and Racial Equality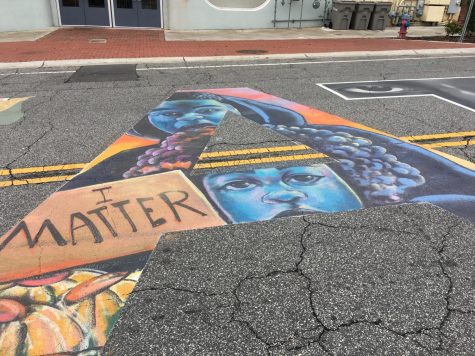 When visiting downtown Spartanburg, it is hard to miss the 240-foot long Black Lives Matter (BLM) mural that stretches along Broad Street, right in front of City Hall.  
The mural was created on June 20 in the wake of global protests in support of racial equity. Sixteen artists from the Upstate, along with a host of community volunteers, worked together to paint the mural. The project was led by Frankie Zombie, an artist who grew up in Spartanburg. In addition to his BLM murals, Zombie has done abstract murals around Spartanburg and creates custom apparel. People from all over the world have collected his original work, and he has created pieces for celebrities like Pharrell Williams, Pusha T and Swizz Beats. 
Frankie Zombie hopes the BLM mural will inspire people to get involved and work towards positive change. 
"We want people to understand that it's not just one event. It's our way of using our voice to show people that there are so many different ways to use your voice. There are so many different avenues where you can be an advocate for change," Zombie said.  
English teacher and Black History Club Advisor Cherrel Jackson has been to see the mural and believes it has spread awareness and facilitated necessary conversations. 
"My personal visit to the mural left me in awe and made me proud of the town that I now call home because I was able to watch people of various ethnicities and backgrounds gather to admire art that gave a voice to a race of people who have had to be silent for so long," Jackson said. 
Antonia Dover (10) attended peaceful Black Lives Matter protests in Spartanburg. 
"Many people carried signs and shouted, 'no justice, no peace,'" Dover said. "I decided to take part in this event to stand up for the right of Black lives, but also for everybody else's lives. This was an experience I will never forget. It made me happy for everyone to come together and stand up for what is right."  
Amy Rieth, SHS alum and salutatorian of 2018, also attended an event in Spartanburg to protest the lack of racial equity in America. 
"[Attending] the protest was my way of showing support for the people I know personally who have been discriminated against and systematically subjugated against. Our voices are stronger together than apart," Rieth said. 
Jackson believes that even though progress has been made, there is still more growth and change that needs to happen. 
"While there is still more work to be done, we are on a path to creating a world where younger generations aren't afraid to speak up and let their emotions be felt and heard. Ultimately, I want students to see color, to see differences, to truly SEE another person past the surface so that genuine understanding and healing can begin," Jackson said.